Hope you all had a great weekend. We are starting off this week with a new series featuring homes of my dear readers.
Welcome to the beautiful home of Sruthi & Giridhar. They are avid collectors of antiques and love to fill their home with finds from their travels. In her own words, "My husband Giridhar and I bought our first home in 2011 in Ashburn, VA. Since then it had been  overwhelming to decide which rooms to do first, what style to decorate in, our budget and of course the house had to be  kid friendly (we have a six year old son). We also wanted to create a warm and inviting space for ourselves. For the first floor we planned to carry an Indian theme through out. The colors we were drawn to were deep reds, greens and oranges.  So last summer when I visited India I was on a " mission" to find the right decor for our house. And what better place to find these than my mom's home since she is an avid antique collector herself. I didn't have to look beyond her house and of course  my husband and I  had our own little collection from our house back in India as well. My luggage had nothing but all of that you see in the pics".
Her foyer;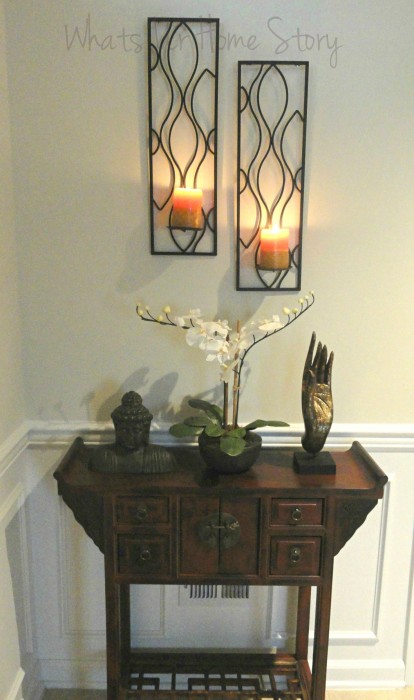 The home is filled with artifacts from Rajasthan, Orissa, Kerala (Cochin), Nepal ( Bhaktapur), Tamil Nadu (Kallakuchi), Singapore, Sri Lanka and Thailand to name a few. Her family room features her brass artifact collection and one of a kind palanquin paintings.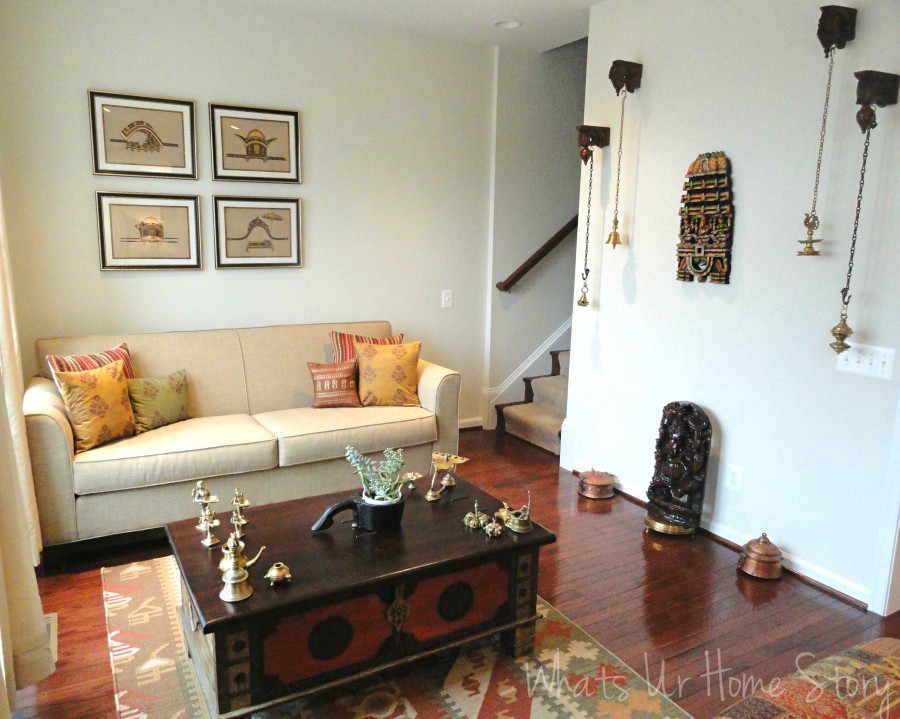 She says, "The paintings of the palkis/palanquins were something I fell in love with the moment I saw them. Picked out the frames myself and wanted them done in fiber glass so that they would not break during transportation ( had at least a hundred tags of FRAGILE taped to the side of the suitcase). The Brass artifacts on the treasure chest coffee table are my favorite. The brass lady holding the lamp (tallest one) is more than 100 years old and it belongs to my great grand mom (heirloom piece).  Some of the other artifacts were back from our scouting trips that my husband and I would take on the week ends back in India.
Another favorite happens to be the hanging lamps. I already had two of my own  lamps and then found these gorgeous wood carvings. The thought of flanking these on either side of the wooden gopura in the center got me thinking that I needed two more lamps. So I got two more carved from a person we know back in India."
The other side of the family room;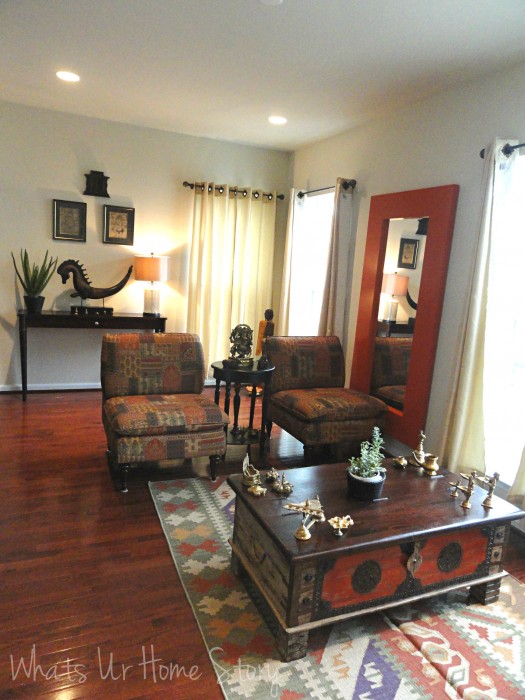 "The  wooden plant holder on the coffee table is from our trip to Cochin. Found these lovely set of wooden containers that were used to store salt and other spices. Didn't know then what I'd be doing with them. But for the price of Rs. 200 for 4 I had to get them. So here it is after a coat of dark polish and varnish."
A view of the dining room from the family room;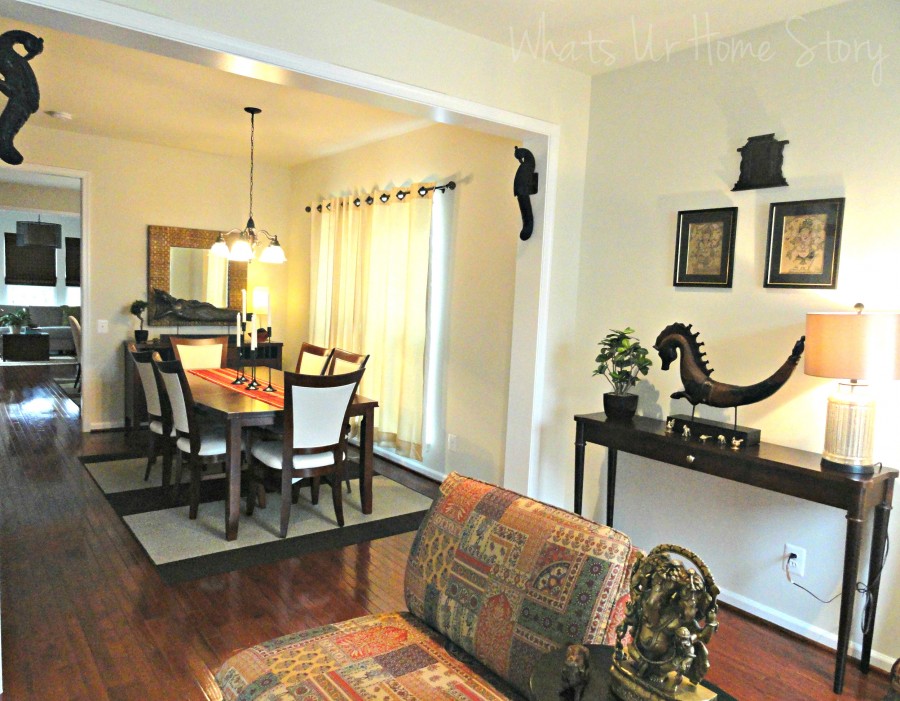 A close up of the mirror and the Buddha statue;
Don't you just love it when you can look around your home and your decor accessories or furniture brings back sweet memories of old times? It is for all those simple moments that we need to surround ourselves with things we love. Truly, Sruthi's home tells her family's story.