This week was going be the big retreat reveal but it looks like that will have to wait. The ladder shelves have been up or over a month now.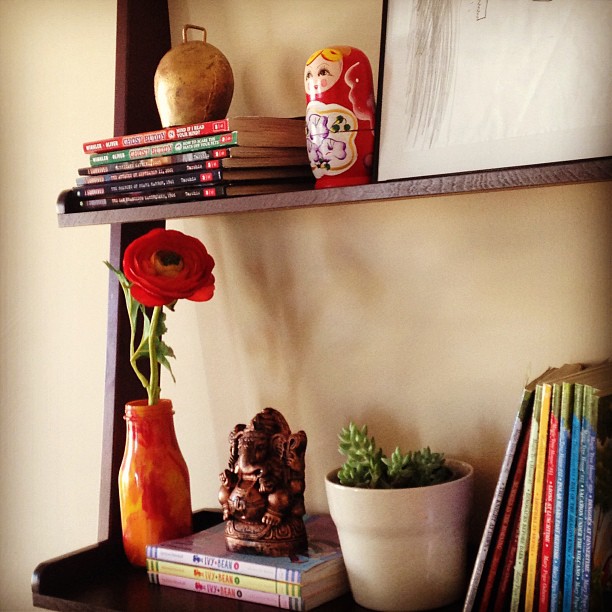 Still need to find some free time to hang the lace chandelier so that I can at least call the place 60% done.  The lace chandy took me about 4 tries ('coz I didn't do it correctly the first time around) to get it right and is now idly laying on the dining table calling our names.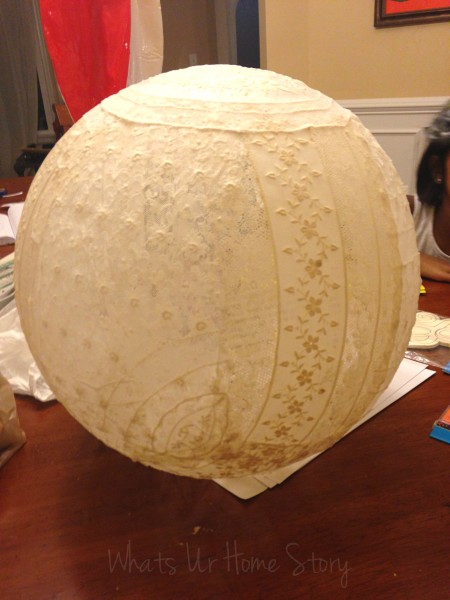 Every time the kids run past it my heart skips a beat! If you are banking on a certain someone's (you know someone  who prefers watching football over DIY projects ;))  help to hang it, what else can you do other than wait? On the same note I would like to point out that hanging a ceiling light fixture is not a 2 person task but I like to have an extra pair of eyes and hands to help when we do electrical stuff. That's called 'being me' around here, being overly cautious.
In the mean time we've been busy celebrating Onam, the harvest festival widely celebrated in Kerala, the southwestern Indian state that I'm from. Starting on Atham day folks decorate their porches with  flower carpets or designs called athapookalam every day for 9 days. The festivities culminate on the 10th day, which happened to be yesterday, with a grand celebration. You can read about the story behind Onam in this post. For those of you who might have missed my daily Facebook updates here's a look at my 2013 pookalams.
This year for a change the kiddos were completely in charge of executing the design with me helping them only on the last 2 days when the designs got bigger. Yet again we managed to work with flowers from our garden. My favorite design is the one we did on the 9th day;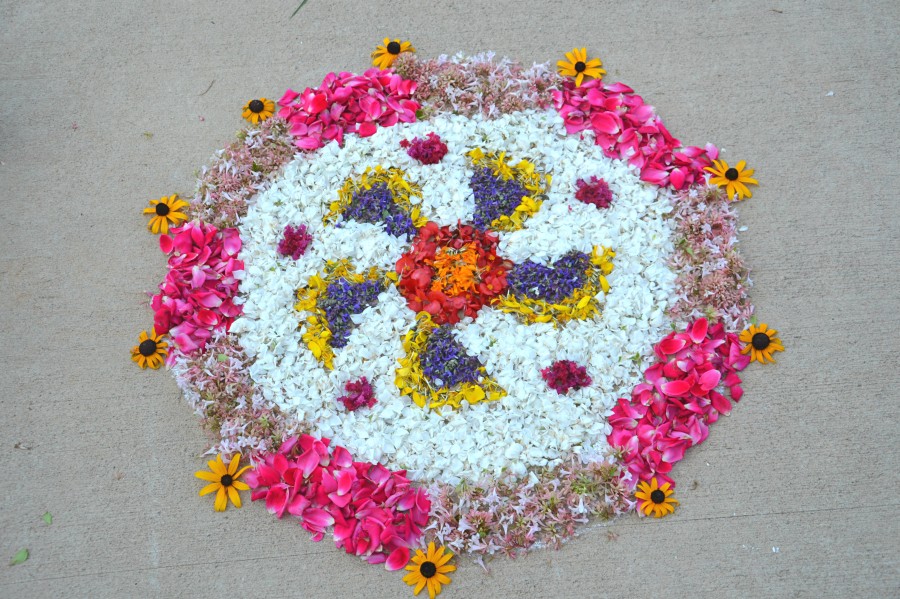 Do you celebrate Onam or a similar harvest festival? What do you think about my athapookalam?
Or should we circle back to the hubbies helping on projects around the house topic? Is your partner game for any DIY? Or is he/she a "will do it at their own pace aka. may never get done" sorta dude/gal?