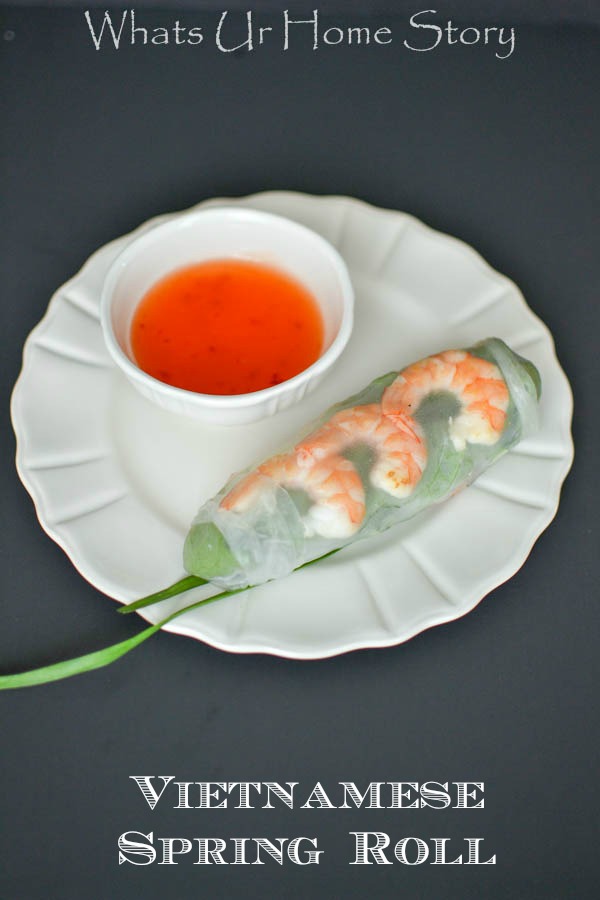 Kicking off another chapter at WUHS with my first recipe post for ya, Vietnamese Spring Rolls! I got my first taste of Vietnamese food thanks to my coworkers at my previous job; one of the first places we went out on a team lunch. I remember I played it safe choosing rice and grilled shrimp then. It was not after a couple more visits that I ventured on to Pho. Still the rolls were not on my radar until the day I ventured into the cafeteria next door a bit earlier than lunch time starving like I could eat the whole world. Their usual fare was not out yet but they did have plenty of these fresh looking rolls. I saw that as my sign to try these yummies out and ever since I never miss a chance to get my fill of these wonderfully refreshing spring rolls.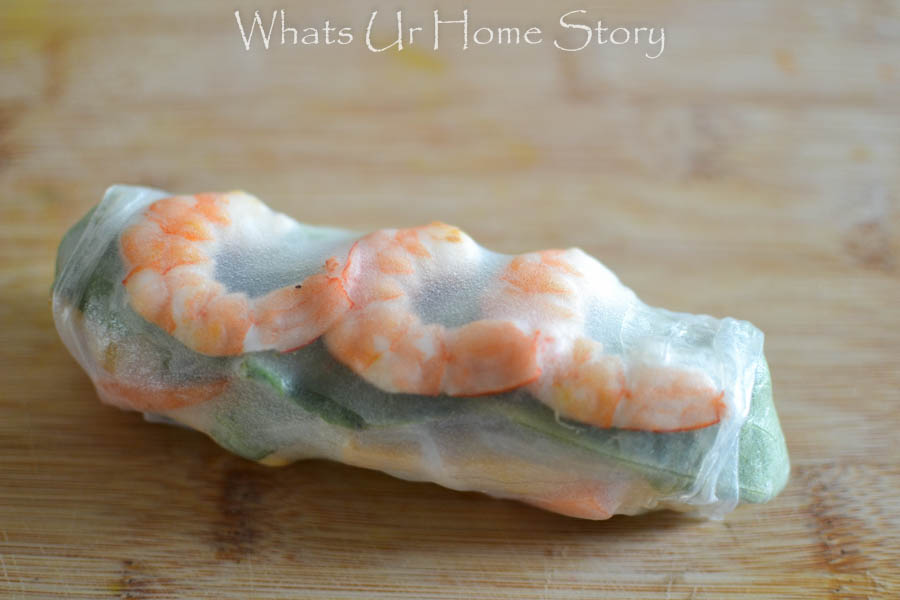 In its original version they use Pork (grilled) but I didn't have any meat on hand. Hence the Tofu. Works quite well.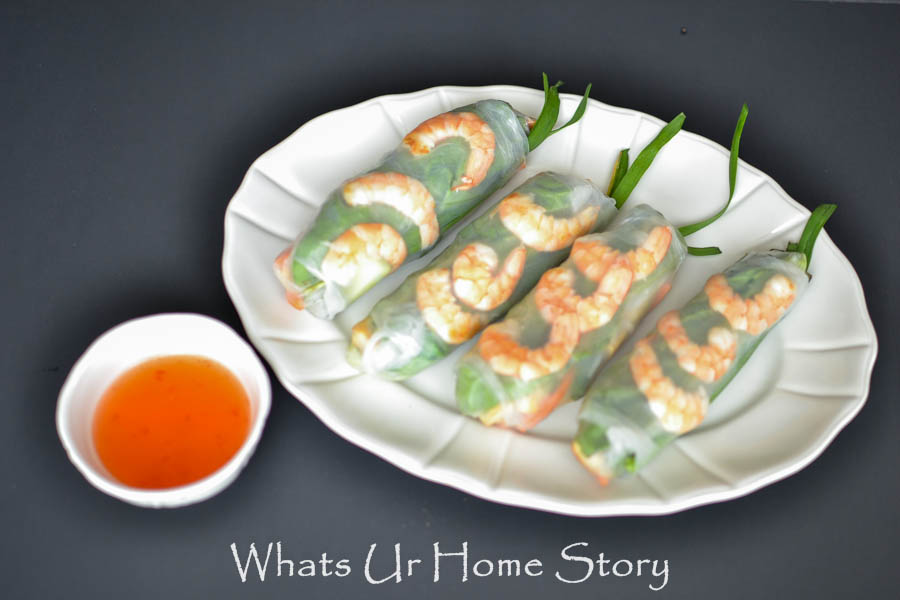 Fresh and light is not what you'd usually think of when you hear the word "spring roll". Yet unlike their popular cousin, the fried Chinese version, these are perfectly healthy and rely on the fresh veggies for the crunch.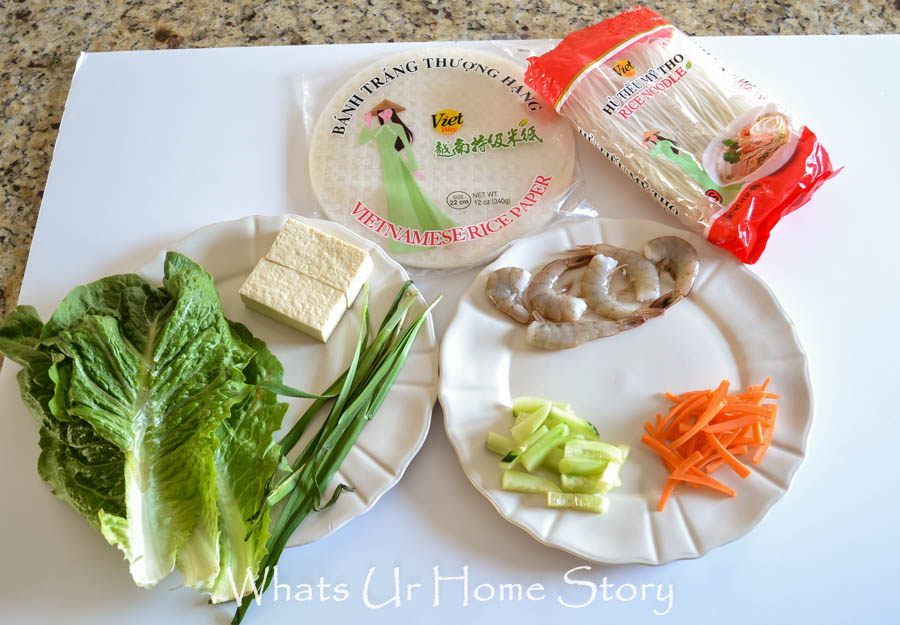 Granted a visit to the local Asian market is a must to make these but I tell ya you'll soon be using up all that rice paper wrappers
 and noodles and even going back for more. They are that good. Oh by the way I'm missing the mint leaves in the above pic.
I cut the Tofu into long strips, marinated in Soy sauce for a few mins, and pan seared. In the same pan sear the shrimp with shell on. Oh yes, without even cleaning it. That's how you get the shrimp to retain its shape.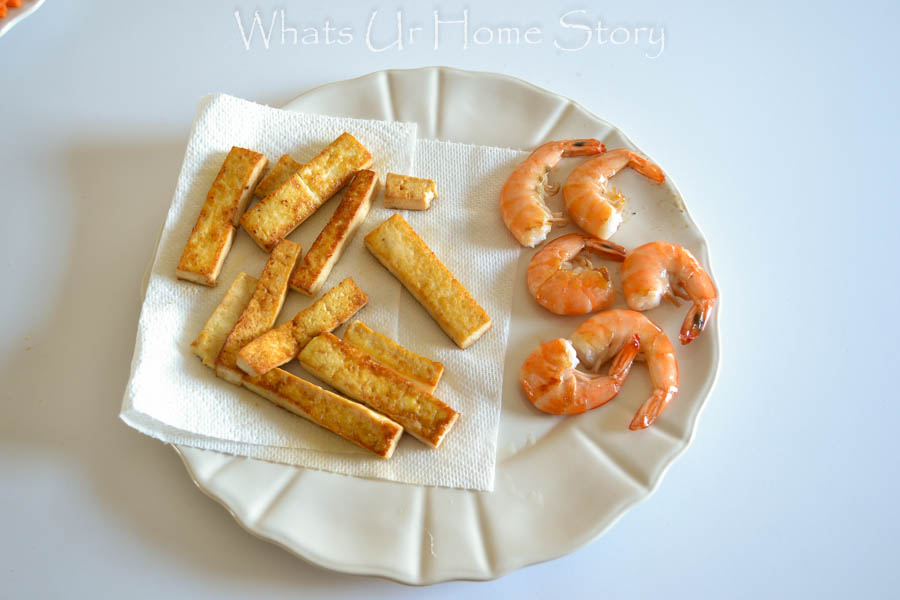 Once you have lightly sautéed the shrimp to pink perfection, peel the shell off, de-vien, and cut in half as shown below.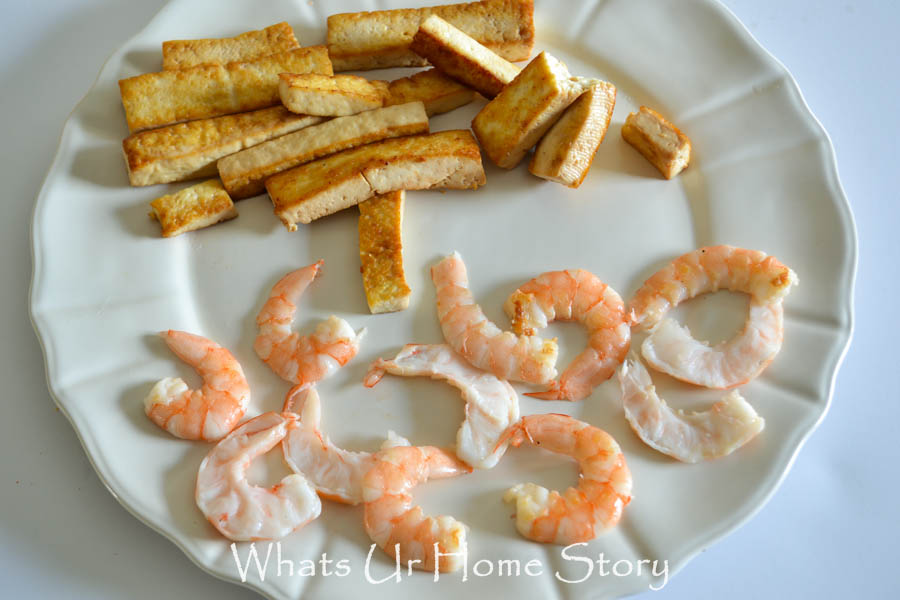 The easiest way to work it is by setting up a prep station with a dry cutting board in the center.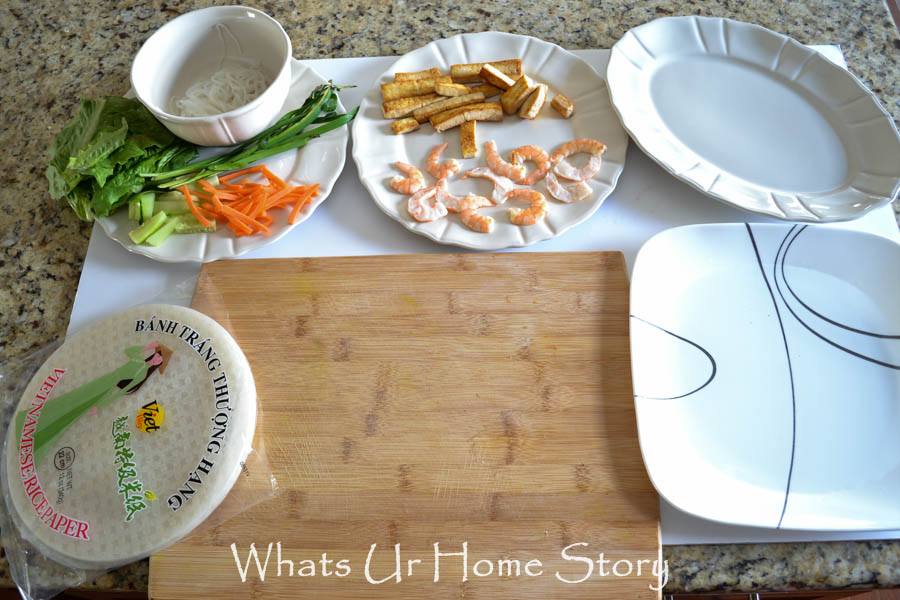 Start assembling by soaking the rice paper sheet in a plate of warm water for a couple of seconds till it is pliable and laying it on the cutting board.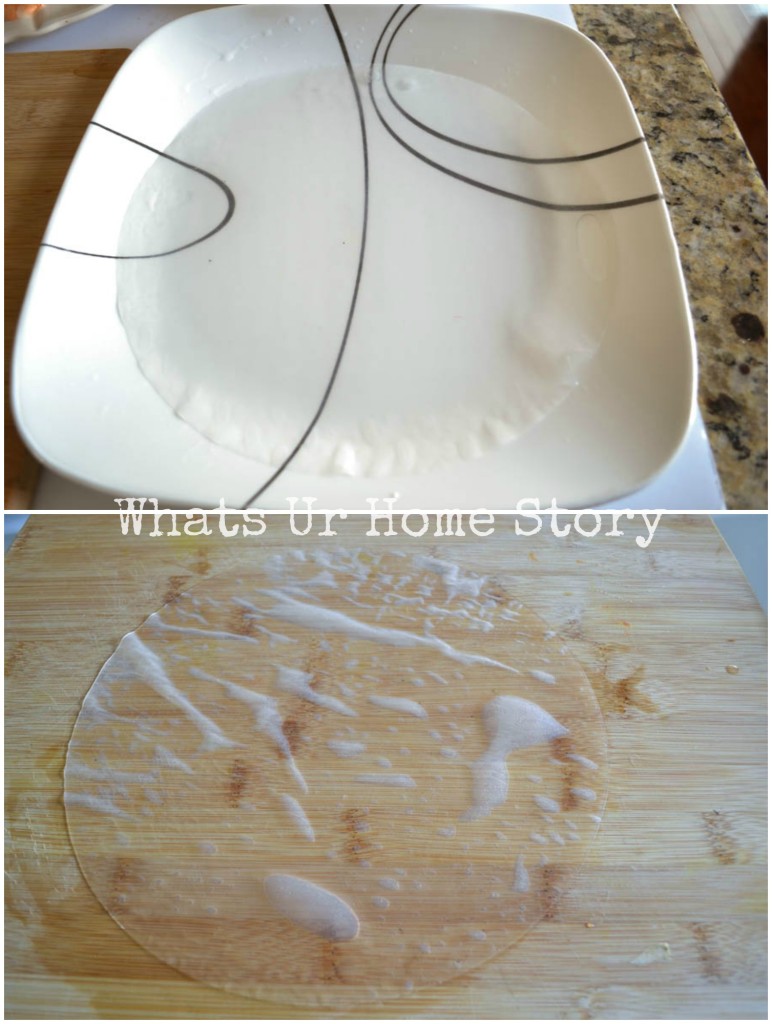 Now pile your veggies on one side starting with lettuce (I used Romain as that is what I had on hand, you can use Iceberg too), Vermicelli, julienned carrots and cucumber, Tofu, and mined mint leaves. I'd recommend not skipping the mint leaves as they make a huge difference. I'm not a mint fan (the reason I used them minced rather than as whole leaves) but the difference they make in upping the freshness quotient is so marked that it would be a shame to leave them out. On the opposite end arrange the shrimp halves in the same direction, pink side down.
Gently roll the veggie side end of the rice paper in. If the paper sticks to the board patiently try to peel it off. The trick is in being gentle. No worries if there is a tear. You'll have a seamless roll when done as the paper sticks to itself when wet.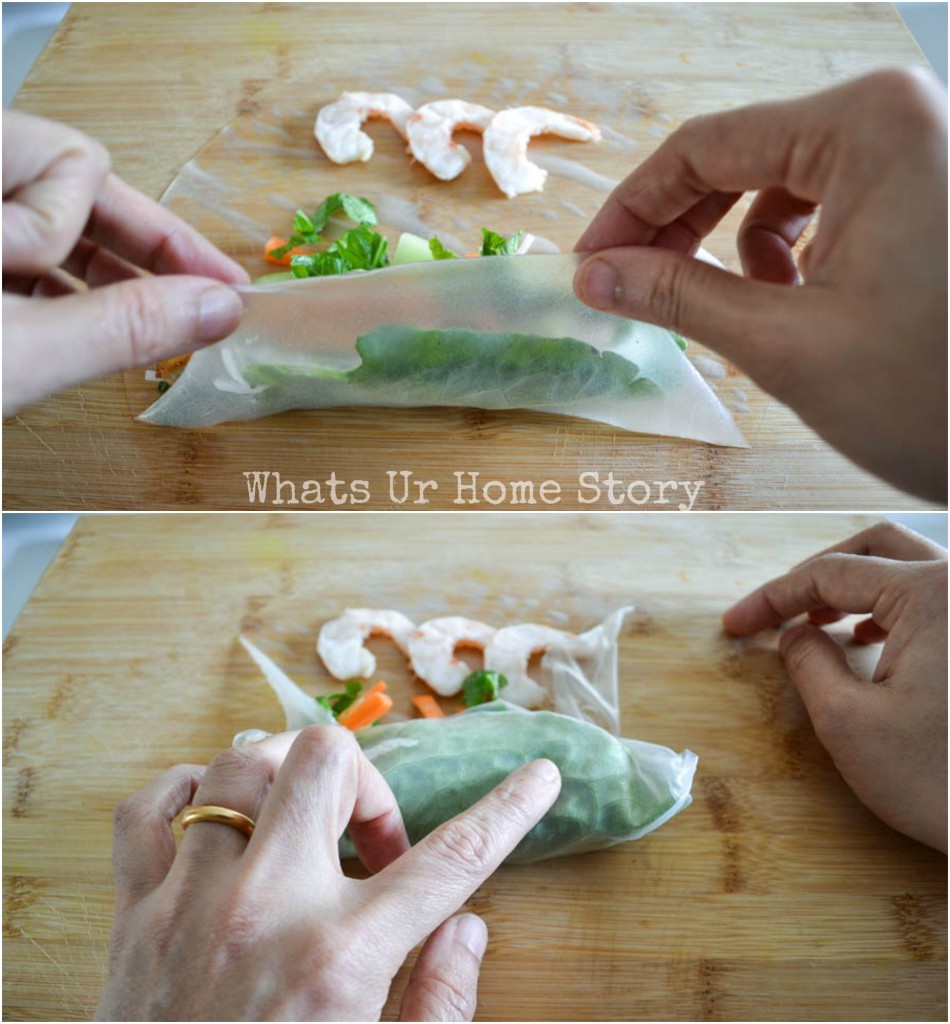 Once you've fully covered the veggies with the paper, fold in the sides as shown, keep rolling till you reach close to the shrimps. At this point add a sprig of chives (I tried a few without wasn't a big game changer, so purely optional) over the shrimps and finish rolling.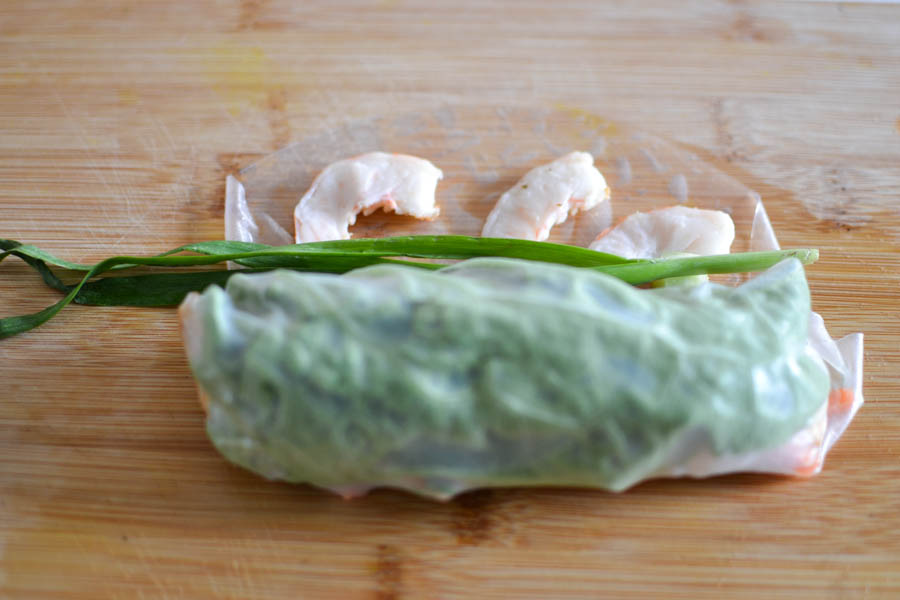 Serve with your favorite dipping sauce. Traditionally these are served with a Peanut butter and Hoisin sauce combo but we didn't have any peanut butter that day. So we ended up using a store bought dumpling sauce.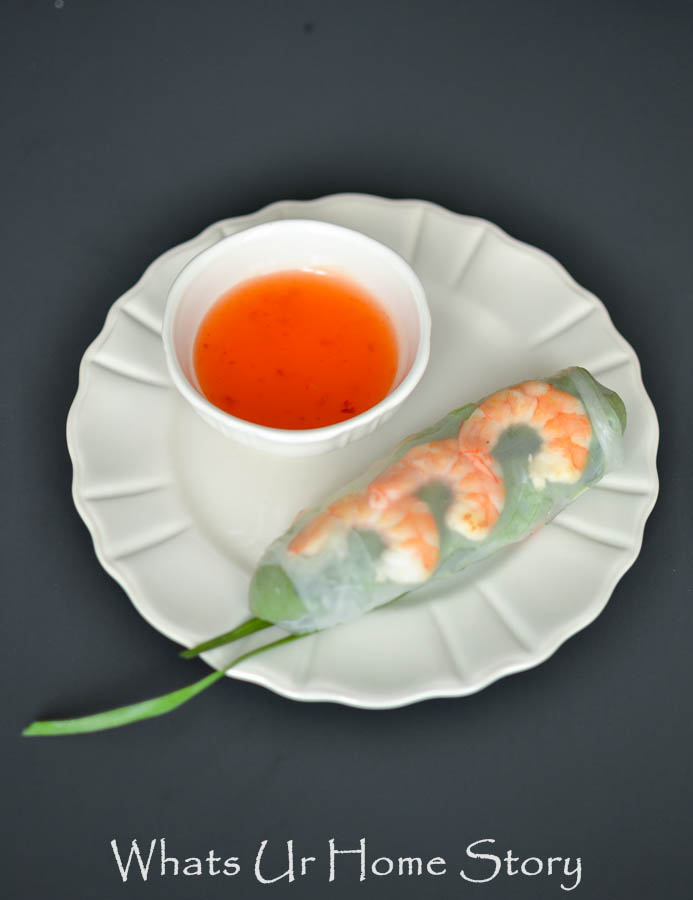 The key to a good looking roll is to have a tight roll. No big deal if your first roll doesn't look perfect you'd be a master at it in a matter of minutes.  If my 11 yr old  can roll a couple of those anyone can!

Vietnamese Spring Rolls with Tofu and Shrimp
Ingredients
4 Vietnamese Rice Paper Wrappers
1 cup Cooked Thin Rice Noodles or Vermicelli or a handful of uncooked Vermicelli
6 Shrimps skin on
½ A square of Firm Tofu
1 Carrot julienned
2 inch long Slice of Cucumber julienned
4 Lettuce leaves
5-6 Mint leaves minced
4 Chive stalks
1 Teaspoon Soy sauce
Cooking Spray
Instructions
Cut Tofu length wise to the size of a finger length. Marinate them in soy sauce for 5 mins. Lightly spray a frying pan with cooking spray and shallow fry the Tofu.
In the same pan sear the shrimp (shell on) till they are a nice pink color.
Once the shrimps are cool, remove the shells, cut in half, and de-vein.
Mince the Mint leaves and set aside.
Cook the Vermicelli according to package instructions.
Set up a prepping station with a dry cutting board in the center.
Soak the rice paper in a plate filled with warm water for a couple of seconds each side. It needn't be too soft but should be pliable.
Place the rice paper on the cutting board.
Time to start layering! Place a Lettuce leaf on the end closer to you, topped with the cooked Vermicelli, Carrots, Cucumber, Tofu, and Mint leaves.
On the opposite end place the Shrimp halves pink side down in the same direction.
Slowly tuck the end (that is closer to you) in and roll tightly. If the paper is sticking to the board gently peel it away.
As soon as the veggies are covered in rice paper once, fold the sides inward so nothing falls off.
Roll till you reach the shrimps. At this point place a chive leaf over the shrimps and continue till the other end is tightly secure.
And voila you have a fresh and healthy spring roll!
Serve with your favorite dipping sauce.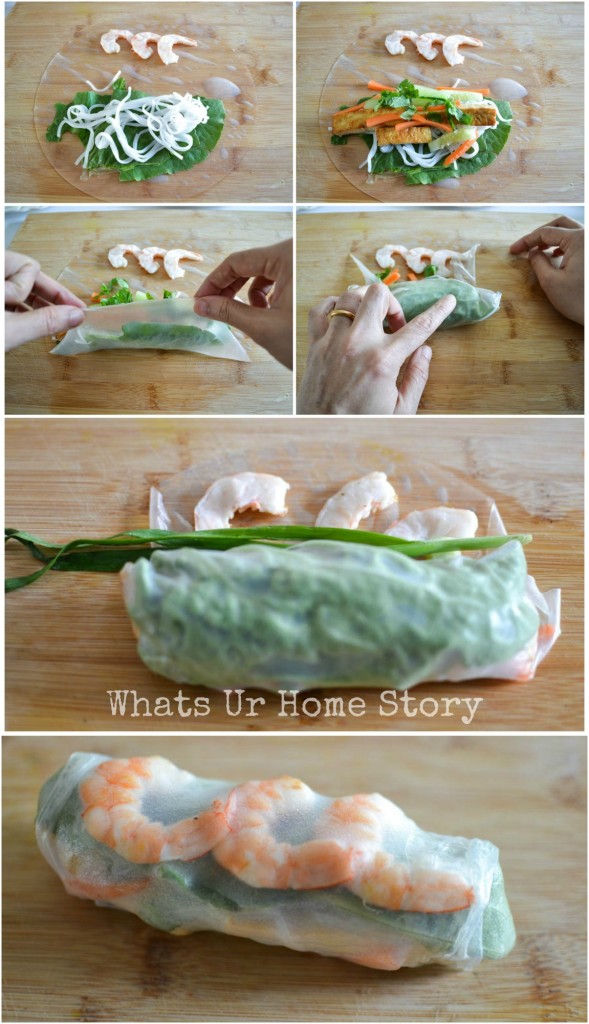 *Post contains affiliate links
Linking to: