Nope don't have any inspiring pins to post today 'coz of a bug in Pinterest. Not sure if it is a WordPress thing or not, ever since Pinterest changed their profile page I cannot seem to embed the links for a pin in my blog post. When I copy and paste the link or the Javascript, the code just disappears in the Preview or in the Visual mode of the post. You guys having trouble too?
It seems it is a pretty prevalent issue with WordPress users but Pinterest is keeping quiet about it. Anyways I'm following it up with the Pinterest folks too. Let's see where it goes. Till then it is a break from the Pinspiration posts. Another thing that I noted recently, with the profile change all the images in my old posts with Pinterest pins seem to have disappeared. The links work but there is no image. Have you seen this too? All I can say on these is, "Man, you guys are making it really tough for us bloggers!"
While we are at it how often do you use Pinterest? Off late have you been on Pinterest much? For me the initial Pinterest frenzy has died down quiet a bit. There is not much browsing or pinning nowadays. I pin only stuff that I want to book mark for later. Don't get me wrong Pinterest is still a treasure trove of ideas and is a valuable source for bookmarking ideas that you would like to reference later be it decor, paint colors, recipes, or fashion. It is your online diary for planning events, rooms, parties etc.
Lately there has been a lot of talk about majority of the Pinterest pins being repins. No wonder for those of us who have been on Pinterest for a while most of the pins have a deja vu feel! I guess that kinda took the fun out of it. Even with all these issues from a blogger's perspective Pinterest is an effective tool to generate traffic to your site and I'm happy with all the new visitors that it has brought to this little blog of mine.
My real gripe though is with Craftgawker. Again an amazing site where you can see a plethora of craft ideas. Unlike Pinterest bloggers rely on the Craftgawker admins to get their pictures on the site. They are super nit picky when it comes to approving pics. So to me Craftgawker is more of a pretty place than Pinterest. What do you expect when all you need to get on Craftgawker is a post on a small craft with great pics ! The quality or the ingenuity of your craft idea doesn't matter at all as long as you've got great pics. My success rate with getting my pics on Craftgawker is a meager 33%. These are are the projects that made it;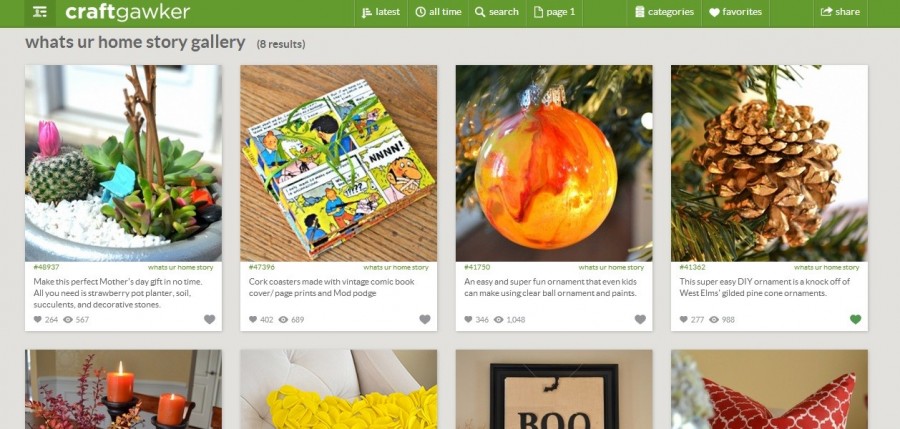 The catch with Craftgawker though is that once you get it in and get noticed you hit the jackpot in terms of blog traffic.
For fellow bloggers, do you utilize these two photo sharing websites to promote your blog? How successful have you been in terms getting new readership via these sites? For the non bloggers, do you use these sites actively to find new blogs? What are the chances that you'll follow a blog from a pin that you saw on Pinterest?