We moved from a house with an unfinished basement to a house that had a finished one. The consequences? The living room furniture got downgraded to the family room (or should I say upgraded as that is the room that gets the max abuse use) and the family room furniture in turn moved to the basement.
This re-org left us with a totally empty white room, the first one you see when you walk in, to fill up. The only thing that we knew was definitely going to be in the room was the Buddha who had a happy abode in the unused fireplace recess in our NJ home (you can see him in the second pic). Why were we so sure about the Buddha? Simply because we couldn't fit him into any other corner in the house and it broke our hearts to put him up on Craiglist. You know, we have a highly sentimental relationship with him ever since we laid eyes on him at a Marshalls 7 years ago, our first real piece of home decor.
Now onto adding character to an empty room. The easiest way? Buy each piece of furniture separately though this is time consuming and costlier than buying everything from the same place at the same time. Mix different styles and finishes, just make sure that there is some color (in the fabrics, accessories, throw pillows) that ties everything together. Not matching all the pieces kind of gives it a unique, collected over the time look. This is what we started with. The picture was taken as soon as we bought the couch and the rug.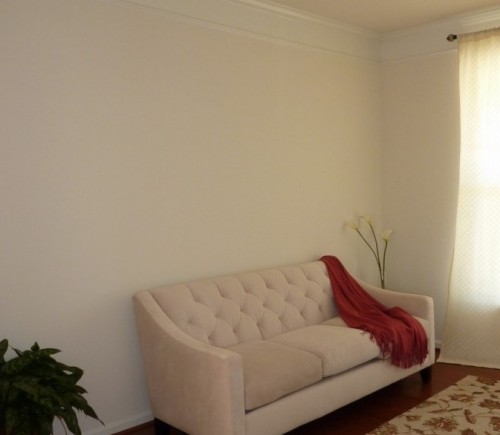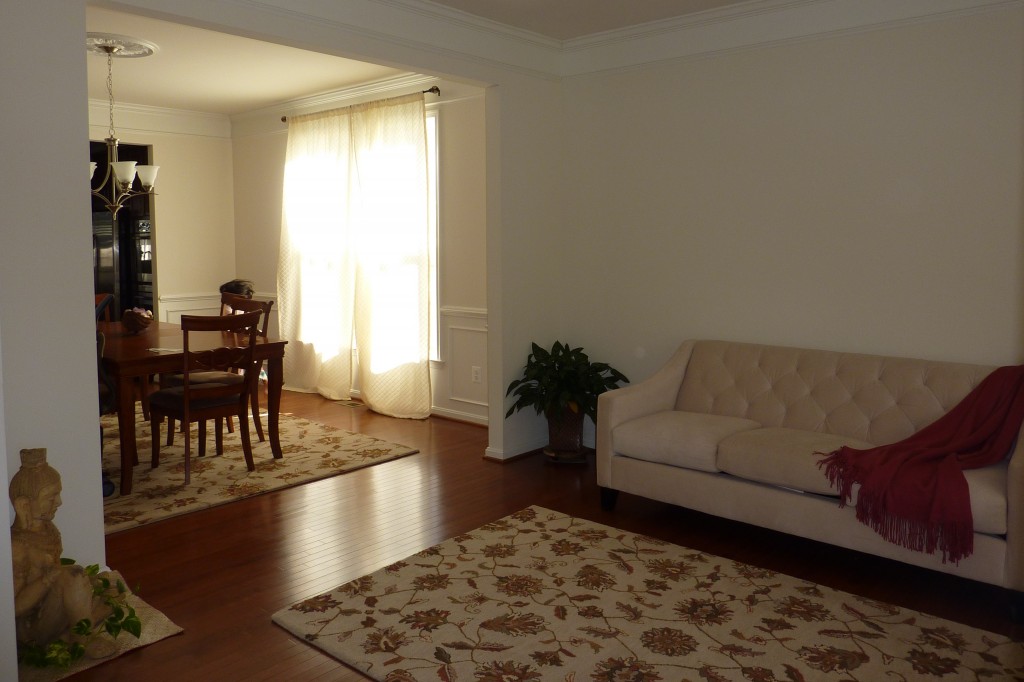 Once we decided to go down this road, the most agonizing part was waiting for the items to go on sale. How else could we offset the cost of buying the furniture piece by piece? Finally after fifteen months the room is ready for the reveal.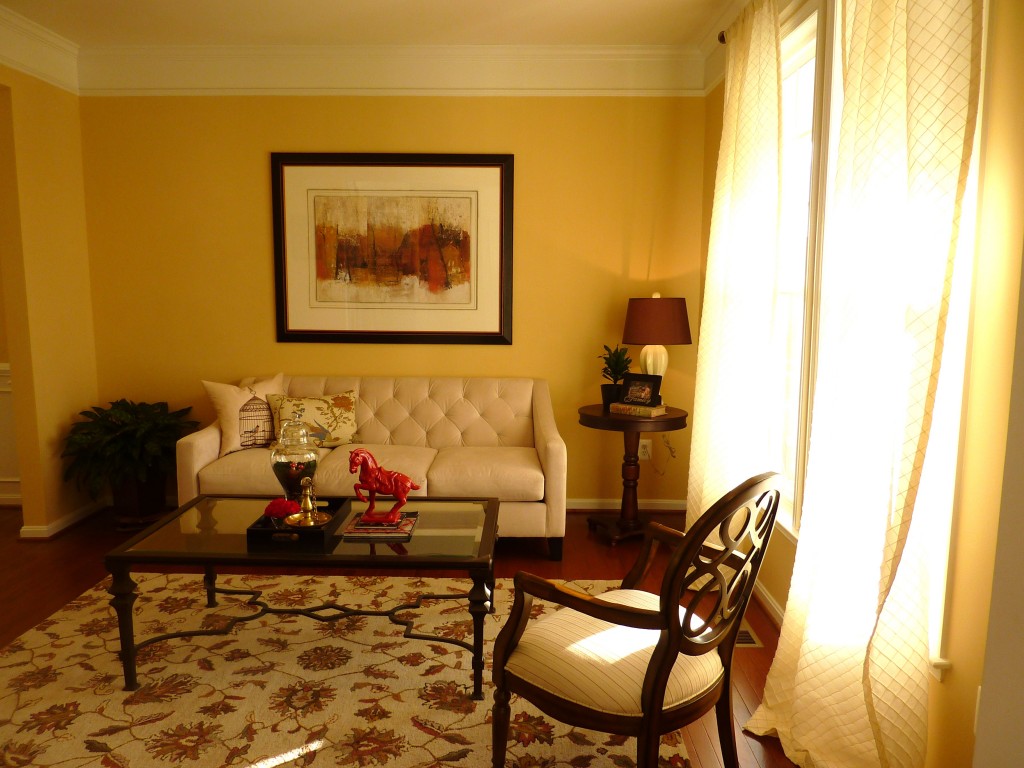 Another view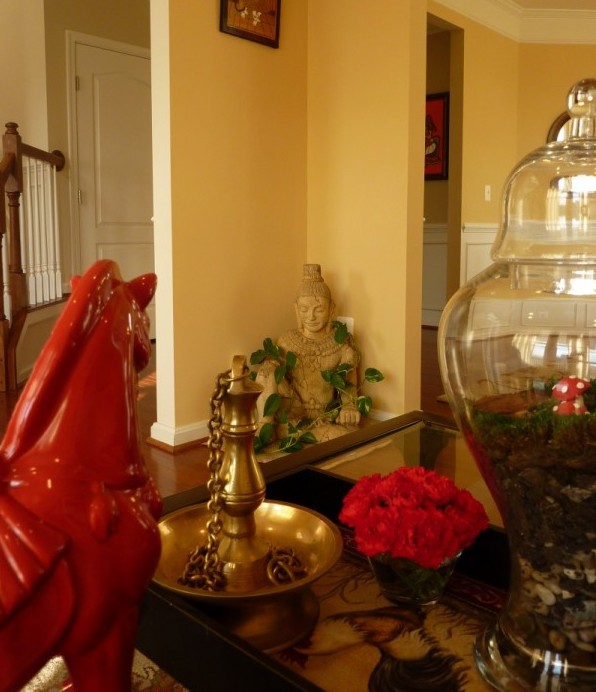 Goof ups? Oh ya, during these months I brought home nearly 10 throw pillows which went back to the store with the same speed. It's ok if you don't find the right piece at the first try; I have realized that decorating involves more trial and error than you would imagine until you find the one that works best. Save your store receipts and tags, just in case. Same story with the side table lamp though this time was lucky the fourth time around.
We spent a total of $1,744.49 on the room, here is the breakdown;
Source List:
Paint – $26.99 (1 can, SW August Moon matched to Behr Flat at Home Depot)
Rug – $179.10; HomeGoods (we opened up a HG card, so saved 10% on the $199 tag)
Curtains – $95.98 ($47.99 per panel) – Overstock.com (+$1 shipping)
Curtain Rod -$24.99 – Home Depot
Couch – $699 – Macys (bought on a long weekend sale; originally $899)
Square Accent Pillow – $15.99 – Tuesday Morning
Rectangular Accent Pillow -$10.99 – Tuesday Morning
Coffee Table – $289 – Amazon.com (free shipping promotion for Prime members)
Coffee Table books – $20.96 – Amazon.com (free Prime shipping)
Terrarium – $37.54 (HomeGoods, EBay, Michaels- details in this
post
)
Tray – already had – HomeGoods
Red Horse – $9.99 – Ross
Traditional Brass Lamp – already had from India
Painting – $100 – Model home sale in the neighborhood
Accent Chair -$145.99 – Overstock.com (+$1 shipping)
Side Table – $59.99 – TJMAXX
Side Table Lamp – $15.99 – HomeGoods (on clearance)
Photo Frame – already had – HomeGoods
Book Box on the side table – $9.99 – Tuesday Morning (It has a map of India from the late 1900s on it.)
Small plant and Pot – already had – IKEA
Large Plant and Planter – already had – Home Depot & HomeGoods
Buddha – already had – Marshalls
Update: Checkout the home tour for more recent pictures