I like to think that buying your second house is a much easier experience on you than the initial one as you clearly have an idea of what not to do. Armed with the knowledge from buying our first home (a 20yr old townhouse) we dived into the process with a long want/need/do not want list. In the short span of 2 months we saw as many houses as we could and finally zeroed in on ours. We signed the contract without even seeing a model, just from the floor plans. I know…but hey, we are experts at this sorta thing; we had a traditional Indian arranged marriage and saw each other only 10 days before the wedding! Ok, I would be lying if I don't tell you that we used to talk to and email each other every other day for months.
We figured we had seen enough houses and floor plans to know how exactly the finished house would look like. I guess our engineering backgrounds reassured us that it would turn out fine. Wait, oh ya…you guessed it right; we ran into some issues but that is enough material for another post altogether. We broke ground on the house on April 24th, which incidentally happened to be our tenth wedding anniversary. Move in day was 2 months later on July 4rth; the pioneers on our newly constructed street, we had a ball setting off fireworks. What a great start to our new journey!
Here are a few pics taken through the moving/settling down process: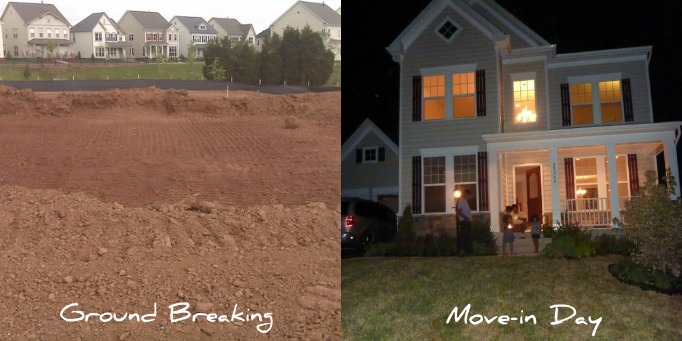 Notice how dead the grass and the tree are in the move in day picture, moving in the dead heat of the summer didn't help either. With a ton of TLC all is well now. A year later there isn't much change to the exterior except for adding a few plants here and there.
That's it for today.  Feel free to stick around as long as you want and visit often (hopefully daily please 🙂 ).  I hope this blog inspires you to make your own unique stories in your home. See you around tomorrow.