Strangely enough we've never had coasters at home. Now that I think of it, I'm drawing a blank on why we never thought those were necessary. Anyways lately the lack of coasters has become an issue especially for B, when he wants to put down his hot cup of tea on the coffee table. My solution…..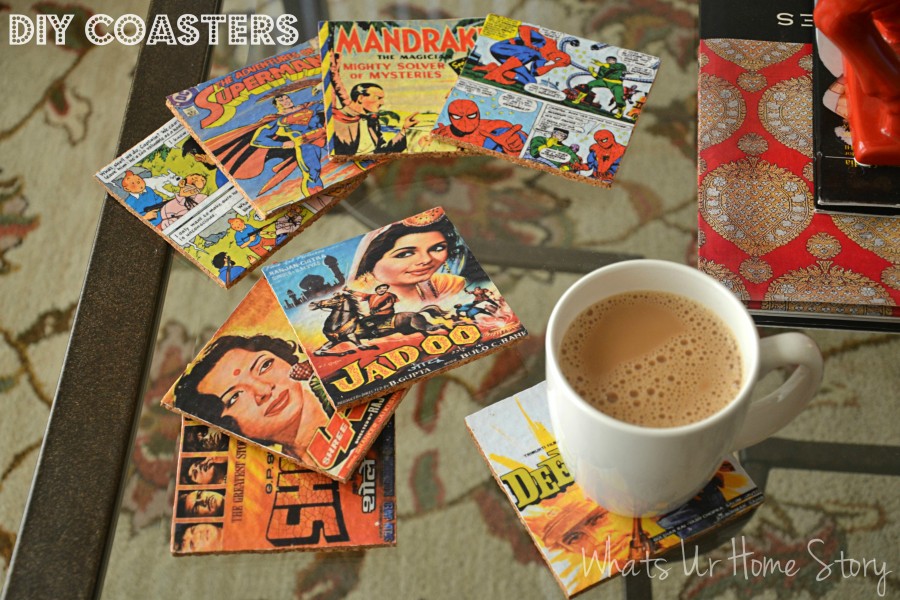 Cork coasters made with vintage Bollywood movie poster and comic book cover/ page prints. And totally free as I had everything on hand! If you were to buy all the supplies from scratch then I doubt it would cost you more that $10 for a set of 8.
Supplies
Cork board or pre-made cork coasters
(available at craft stores) – I used the tiles that I had left over from my
cork board map
project.
Mod Podge Gloss
– Micheals -You can use matte finish Mod Podge for gluing the print to the cork but for the sealing layer you need the Gloss
Movie Poster/ comic print
– You could use anything you want, prints of your kid's drawings, wrapping paper etc.
Xacto knife
Sponge brush
A hard surface to work on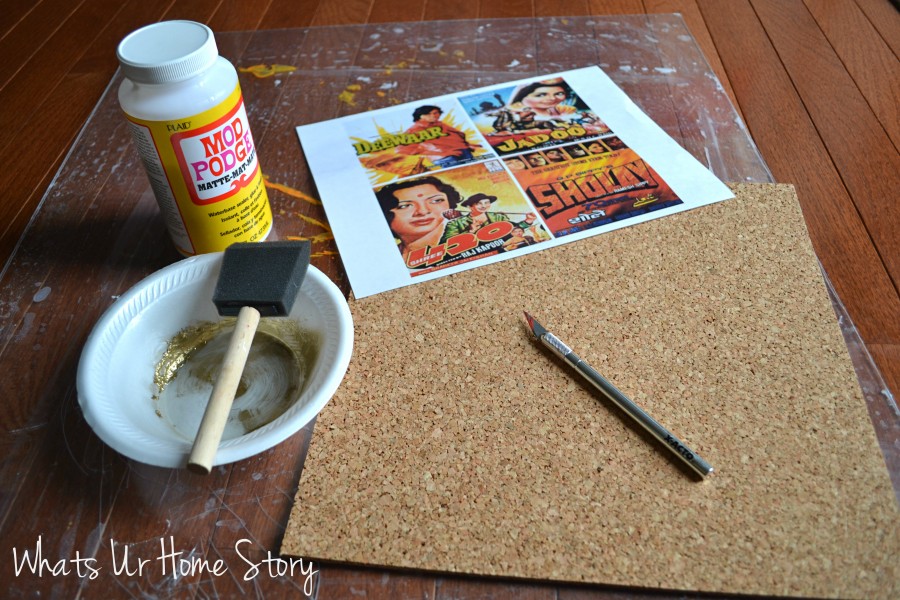 The Process
Secure your print to the cork board square with painters tape and cut along the edge.

Add a layer of Mod Podge (Matte or Gloss) to the cork and stick the print.

Make sure to smooth out any air bubbles with a credit card. When you do this always start from the center and go towards the edge.
Once it is dry coat the print and the sides (important) with

Gloss

finish Mod Podge. Trust me, I tried the Matte finish. It looked pretty dull. The Gloss brings out the colors in the picture and gives it a professional look.

Repeat if necessary. I applied 2 layers of Mod Podge to be on the safe side.
Love how they turned out. Won't they make great hostess or teachers gifts?
For the prints I just picked colorful ones after searching the net, played around a little bit (upping the contrast and sharpness) in Pixlr and re-sized all the pics to the same (4 x 4) size. Then I made a collage with the 4 pics and printed it out.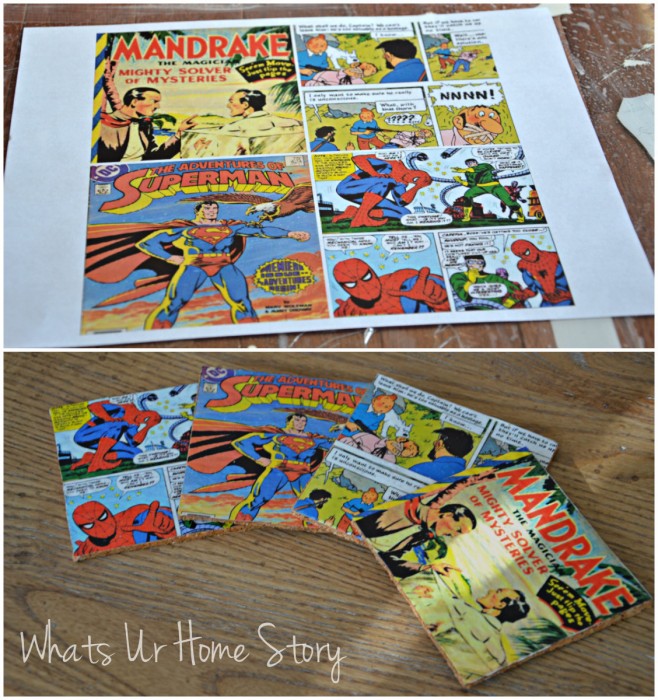 It is that easy! Took me half an hour to make a set of 4.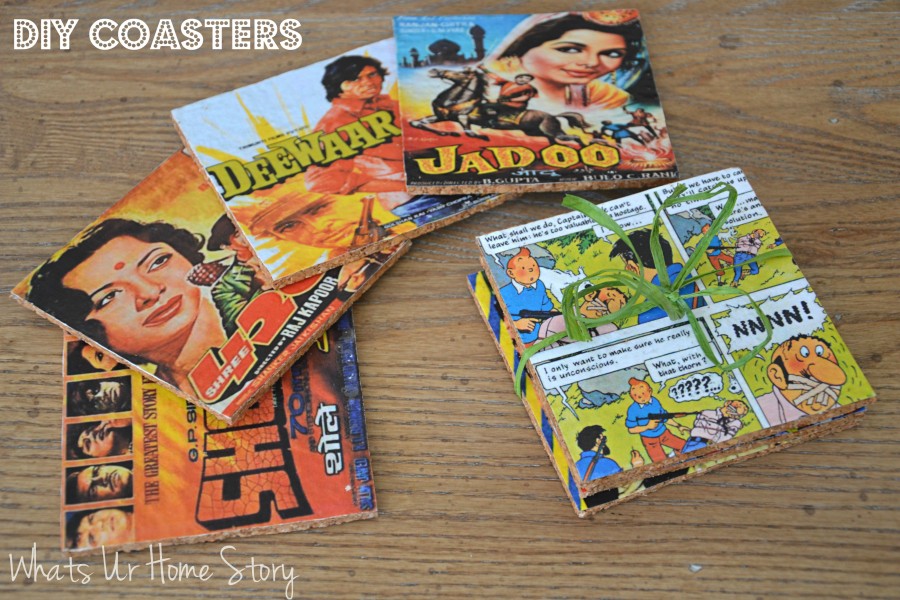 Just a note, for the first few times of use these might stick to the cup when you place a really hot cup of tea or coffee on it. After a few uses this problem goes away (I think) because the Mod Podge layer gets used to the warm temps.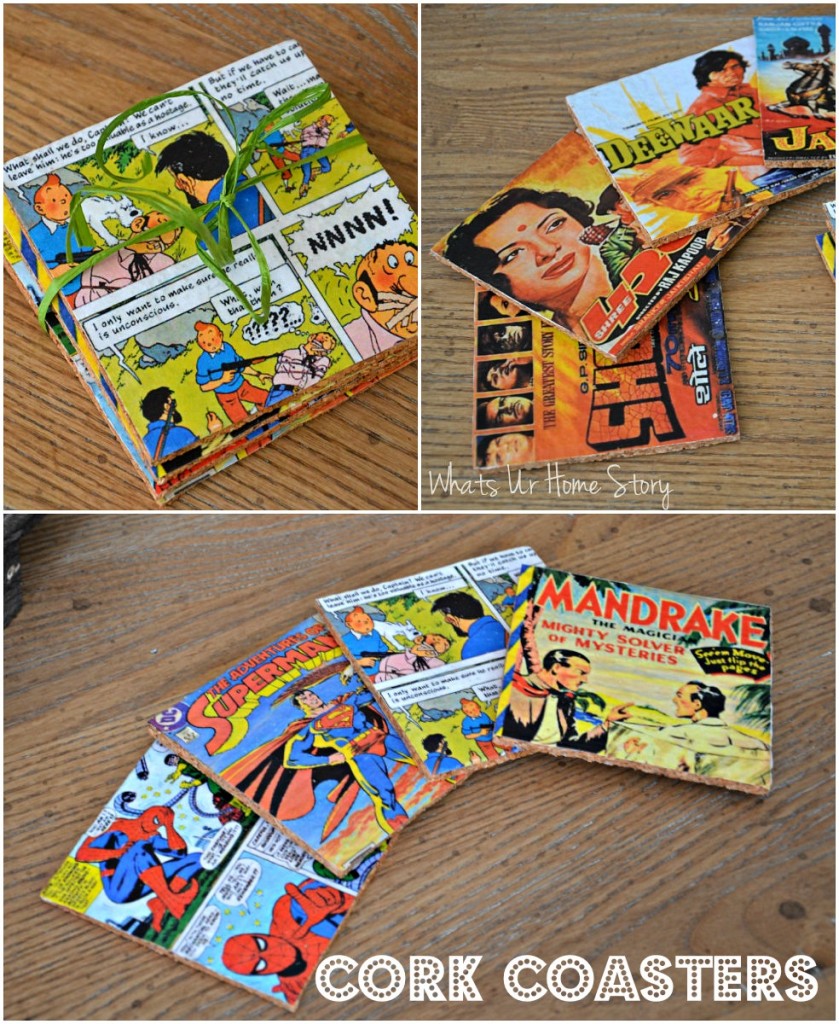 You could make these with ceramic tiles or scrap wood too.
Have you DIY'd coasters?
Linking to;
Project Inspired Linky Party #8 @ Setting for Four