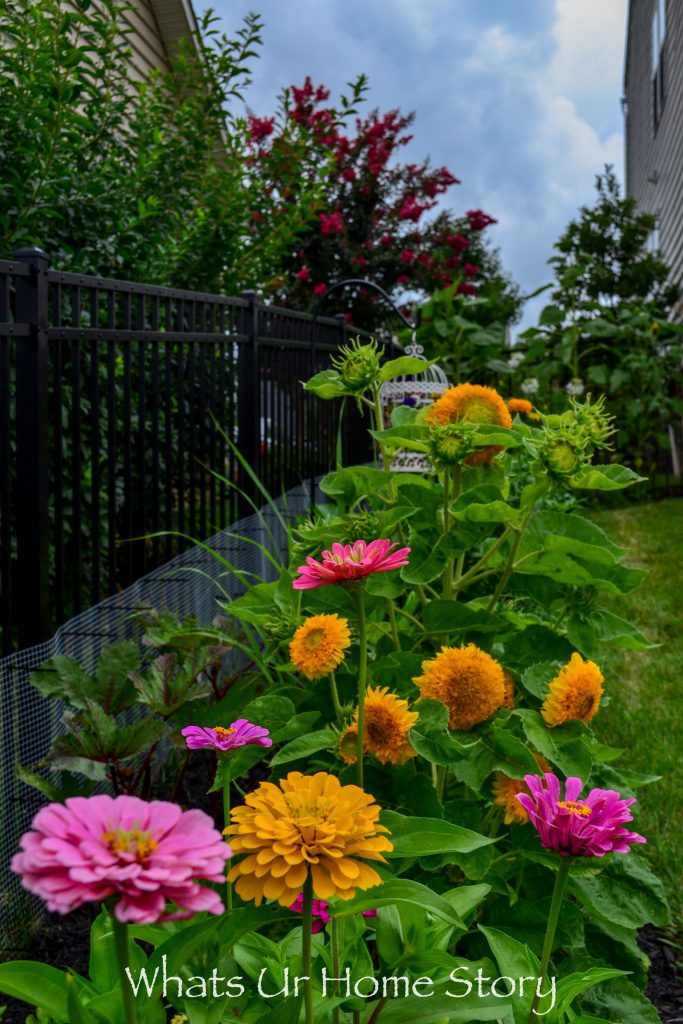 Yes, I have officially become the crazy plant lady. With the creation of our new cottage garden beds in the back yard, tending to my plants is the only thing I want to do. In just a matter of few months I was able to make it a pollinator haven with a good mix of annuals, perennials, herbs, fruit trees, and vegetables thanks to the gazillion British gardening shows and Youtube videos I've been binge watching since winter.
After two and half months of starting the garden we have this!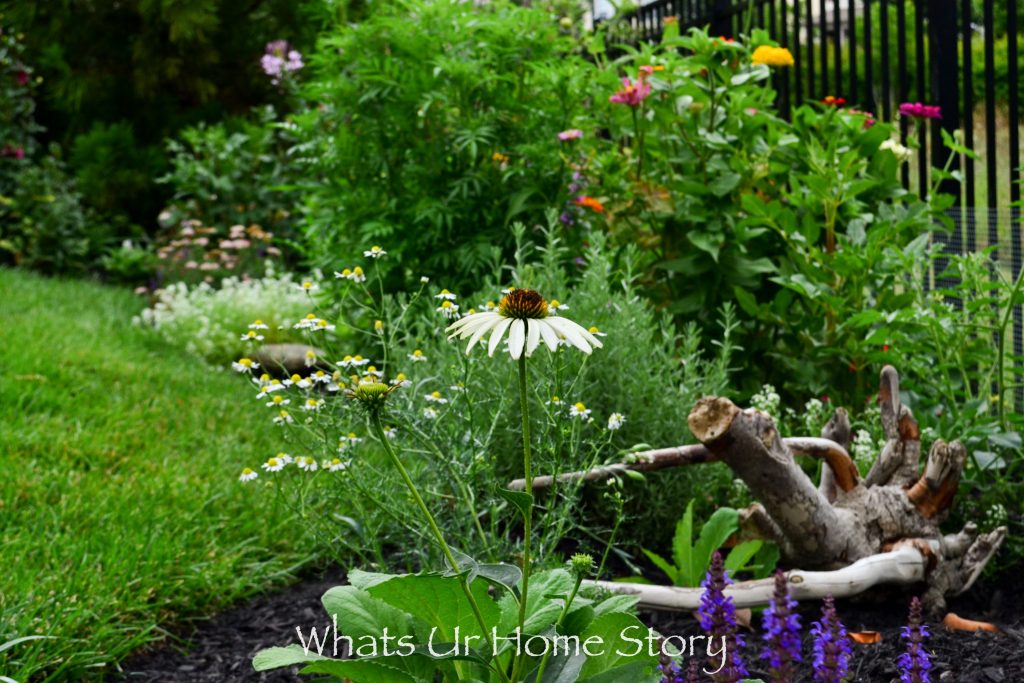 And here's a quick reminder of what it looked like back in March. Please excuse the vertical video from my phone.

There are way too many blooms and plants to take pictures of and to post so I'm posting only a few interesting ones along with the garden accents I used. There is a full video tour of how it looks now at the end of the post where I list out all the individual plants.
Kicking off the individual flower pictures is a group of cleome, a old fashioned cottage garden favorite. It is a self seeding annual. So I'm hoping that I have a lot more next year as they are not only a show stopper but also bloom for an extended period of time.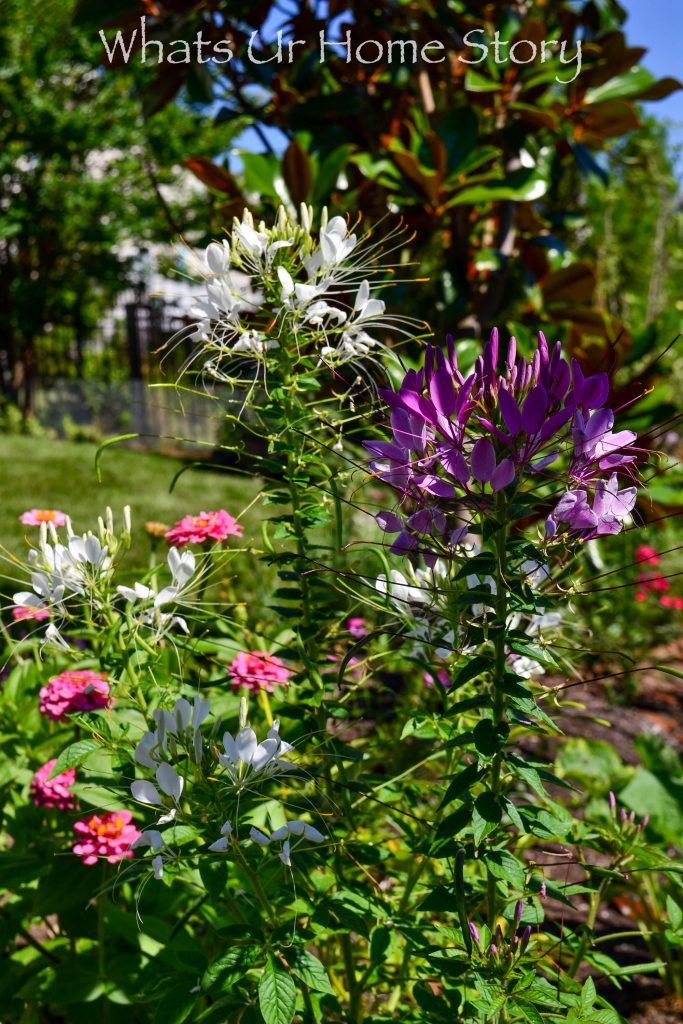 Next up is the herb German Chamomile. I haven't yet made the tea but I love these mini daisy like blooms and the feathery foliage.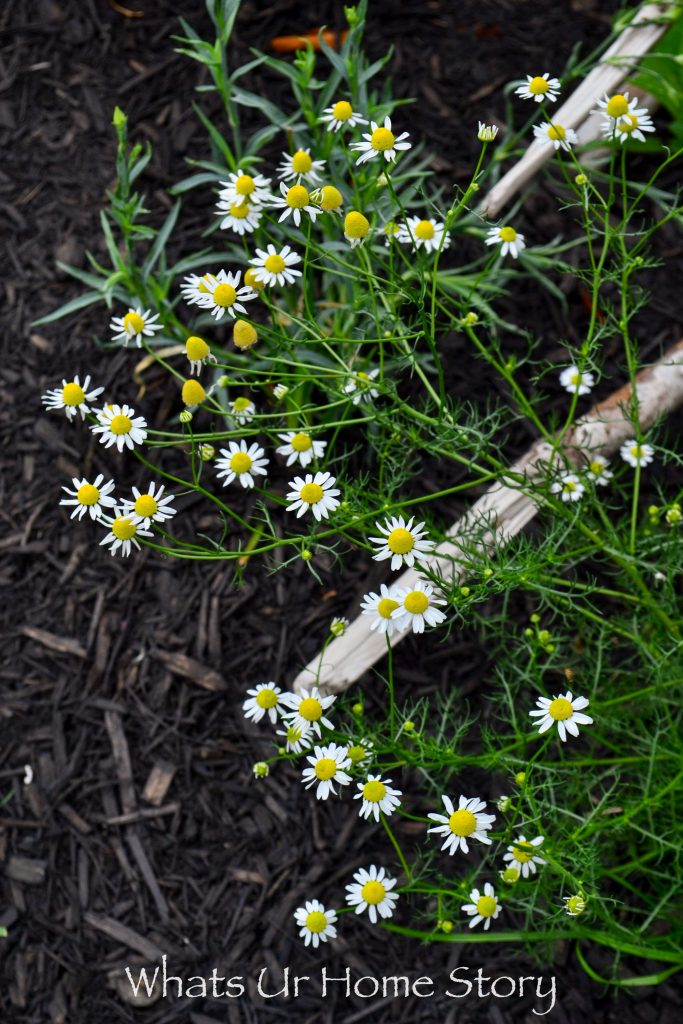 Sweet Alyssum, a great ground cover and pollinator magnet.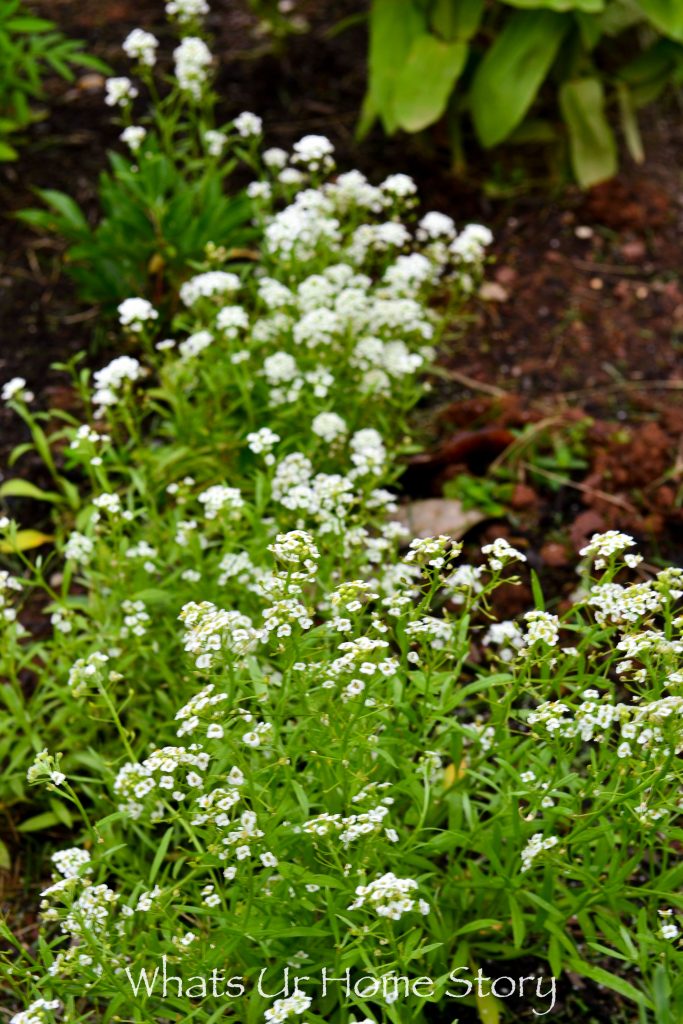 My Rebecca Clematis that I showed you in the Spring post is on it's next flush of blooms. It is a Type 2 Clematis so it will bloom till late summer on new growth.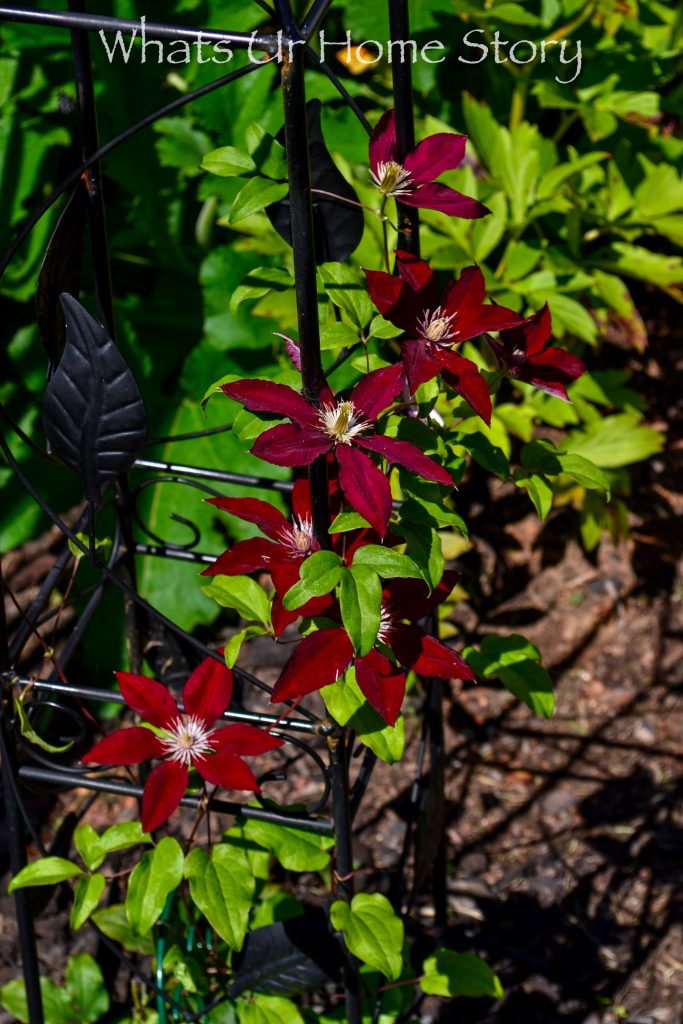 Here is my favorite vignette from this section of the bed. The Globe is from Home Goods. Next to it is my yellow delicious apple tree, which got a bad case of cedar rust this year. I talk more about it in the video. The spikey lavender plant is Liatris, a perennial.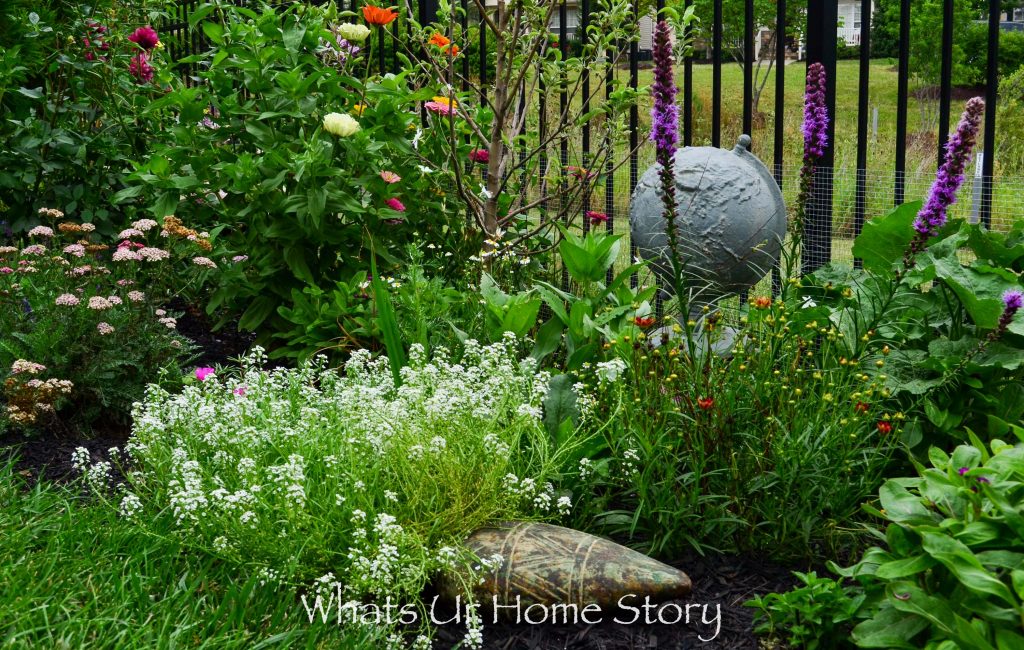 My good old water garden. This year I have two that are doing great. Do you know I even have a frog living in one those? Check out the video at the end of the post for more.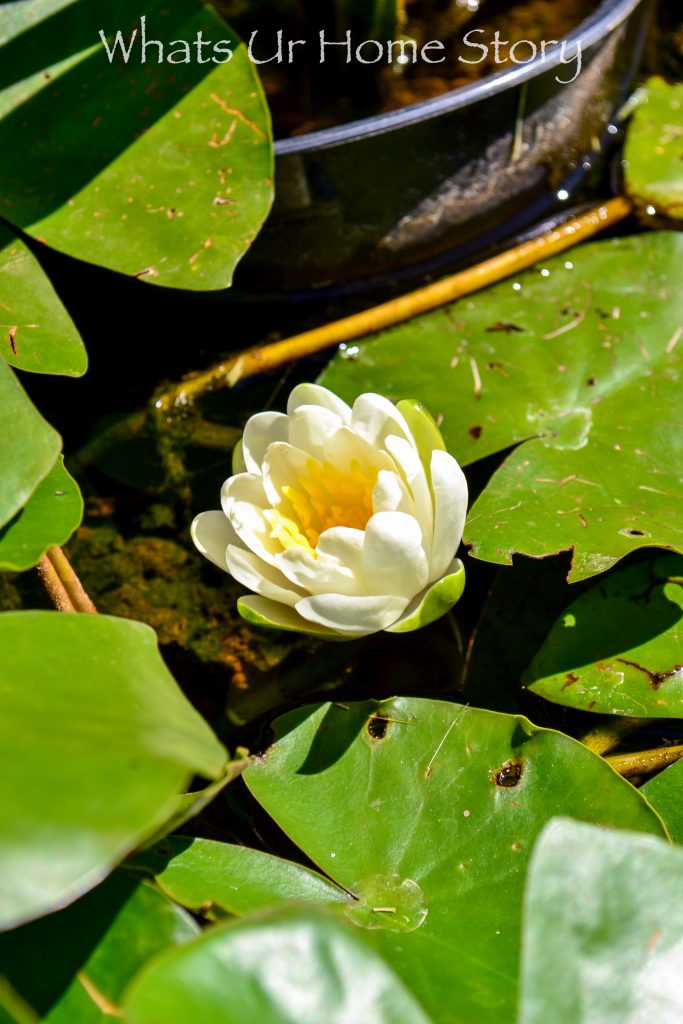 I've grown many a sunflower but this baby totally took it to a new level. The Teddybear sunflower.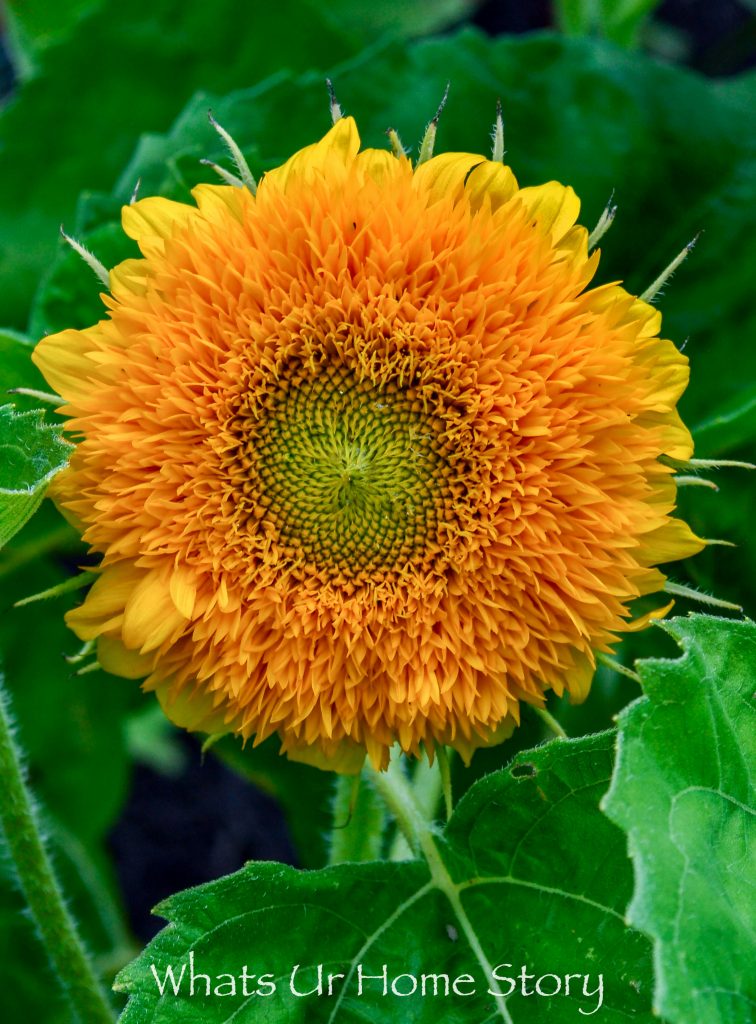 The rest of his family,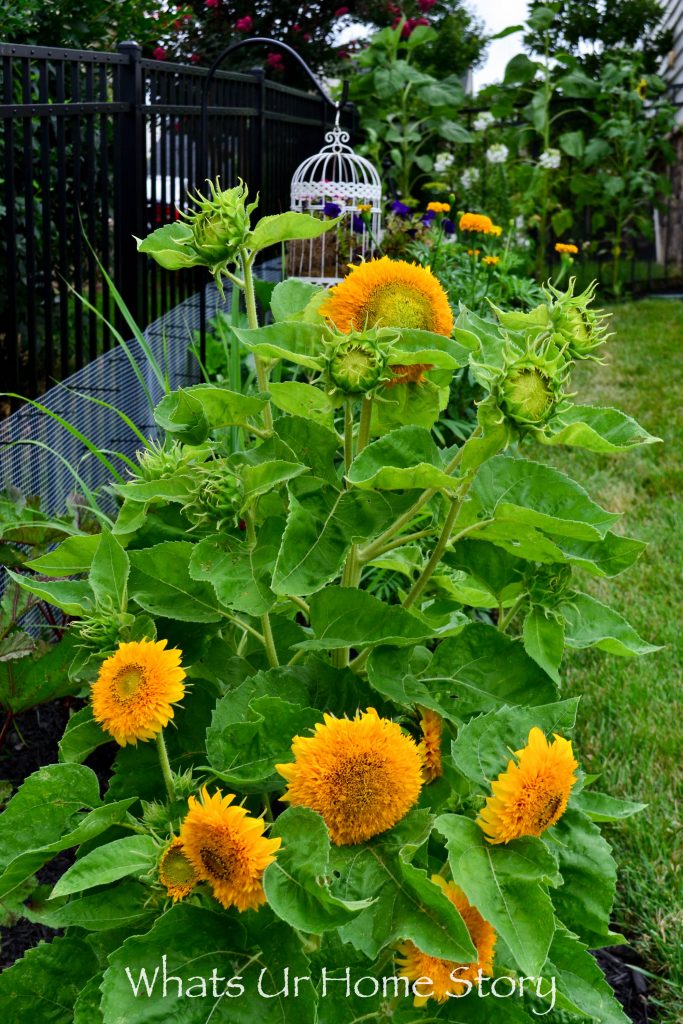 In the background is a bird cage planter I made along the same lines as this one.
My lone survivor, a baby pink Poppy. I winter sowed and direct sowed at least 3 seed packets of Poppy and she was the only one that showed up to the party.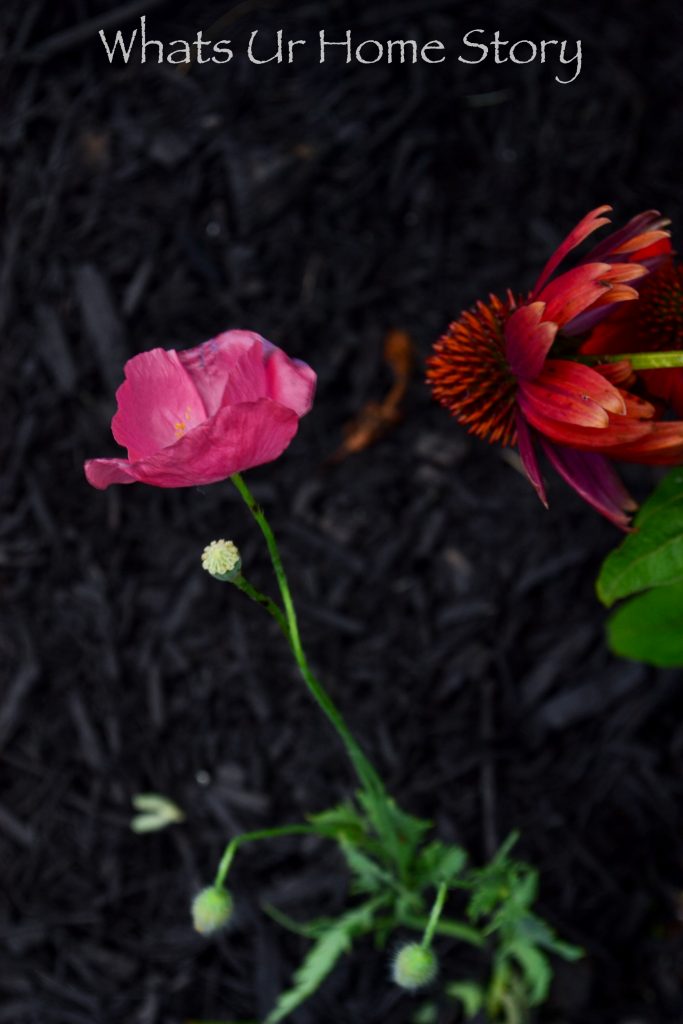 The Penstamon I divided in Spring from the old clump that I had in the backyard bed. It looks like the parent plant suffered a little but the divisions are doing great. This one is a bee favorite.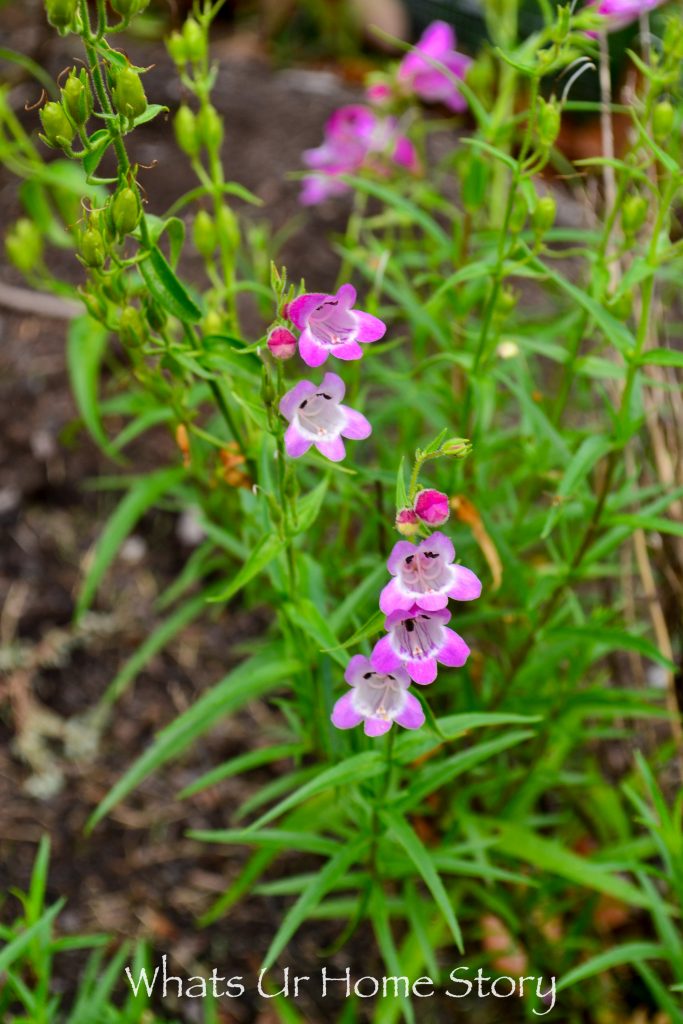 Another stunning annual, Zinnia. No other plant can beat the color, vibrancy, and how can I forget the bees they bring to the garden.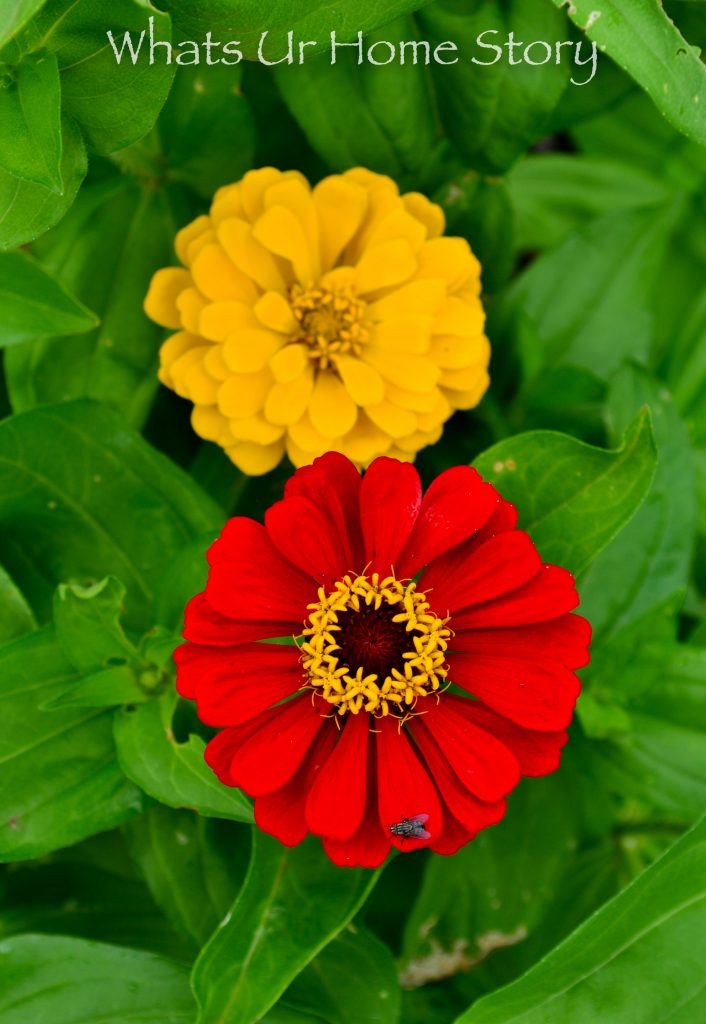 Tried my hand at growing an annual vine this year with this Black Eyed Susan vine.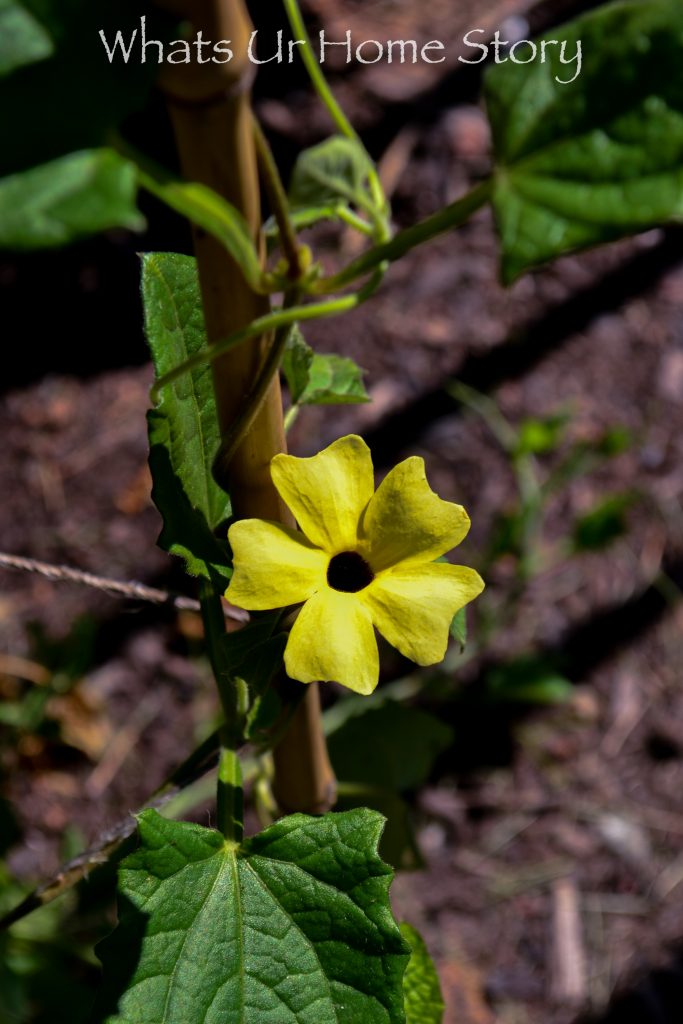 I have no idea why I never grew dahlias till now. I think I got the impression from my aunt's garden back home (of course we are talking about the humid tropics where it rains constantly) that they are finicky plants. But oh my, the flowers are gorgeous and never fail to put a smile on my face when I walk by.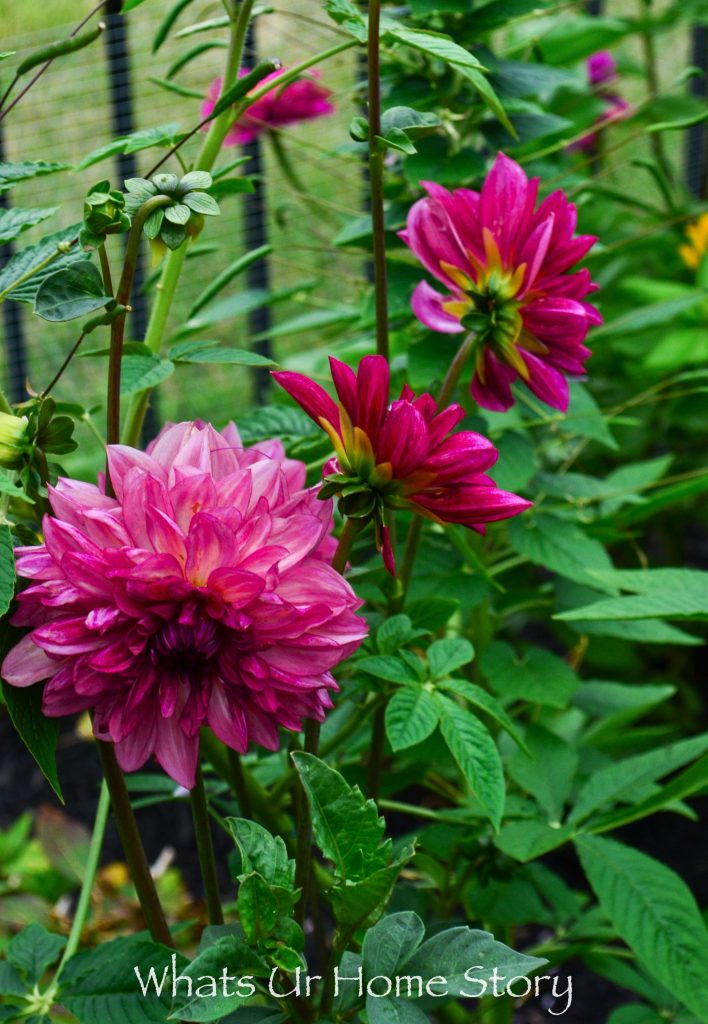 I divided my red hot pokers too this year. Looks like they are slowly and reluctantly rebounding from the shock with smaller size blooms.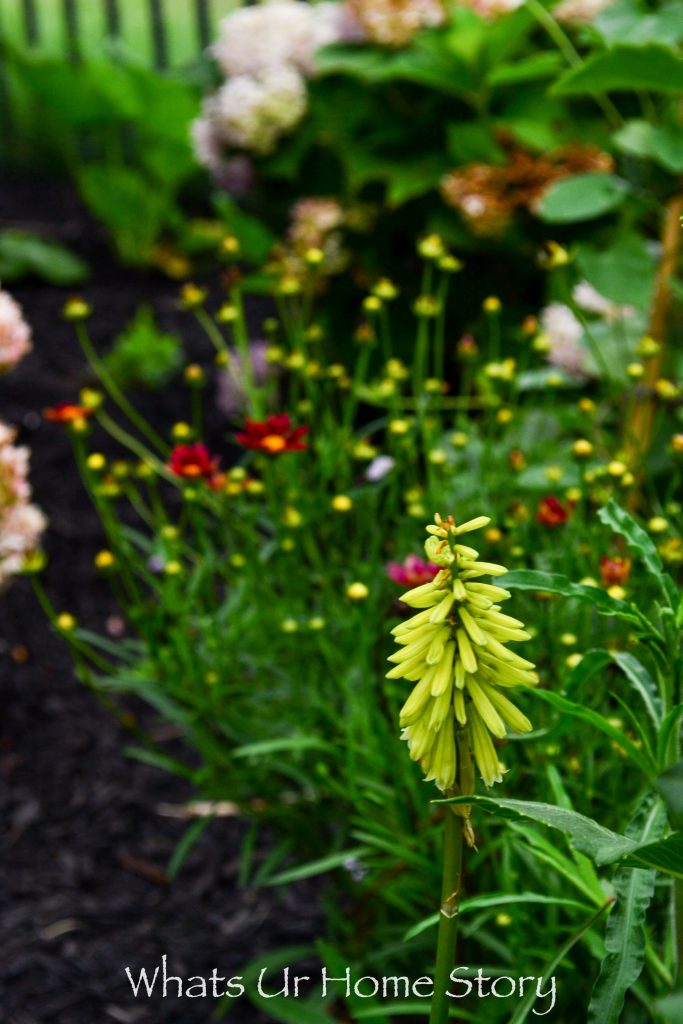 If you ask me my favorite flower out of all the plants that I added to this cottage garden bed I will blurt out without hesitation, Cleome and Alyssum. Both these plants I winter sowed late in the season and transplanted to the bed with great success.
This below patch was just a handful of seedlings that tripled in size. I added a vintage garden ornament/vase from my Purcellville trip next to it to give it the spilled pot effect.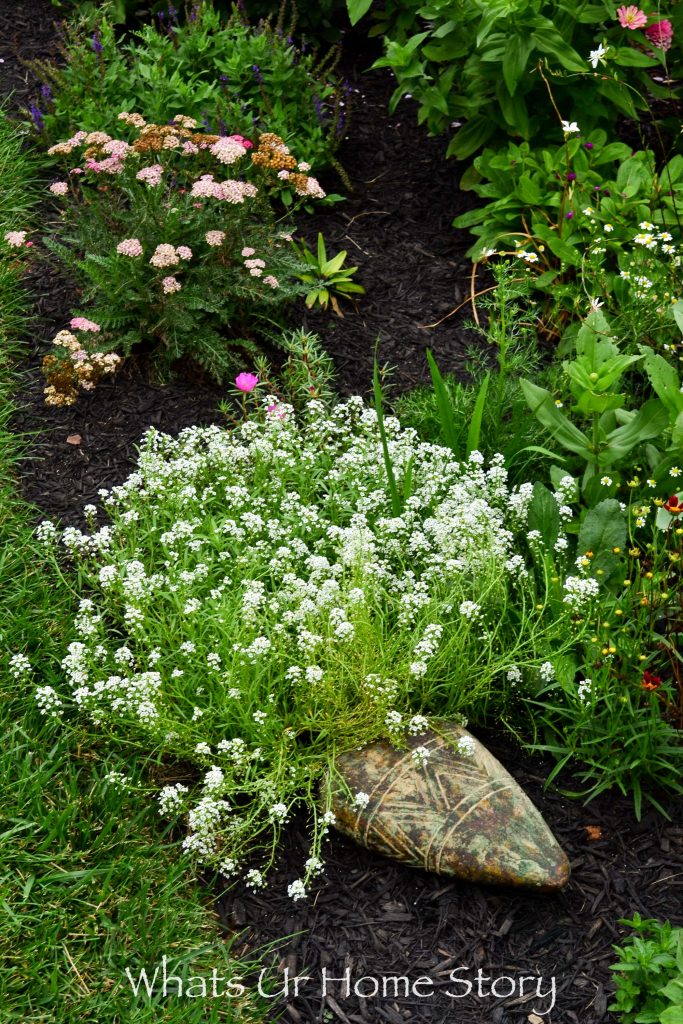 A close up of the sweet alyssum blooms. It seems there is a lavender version of this, which I'm planning to add next year.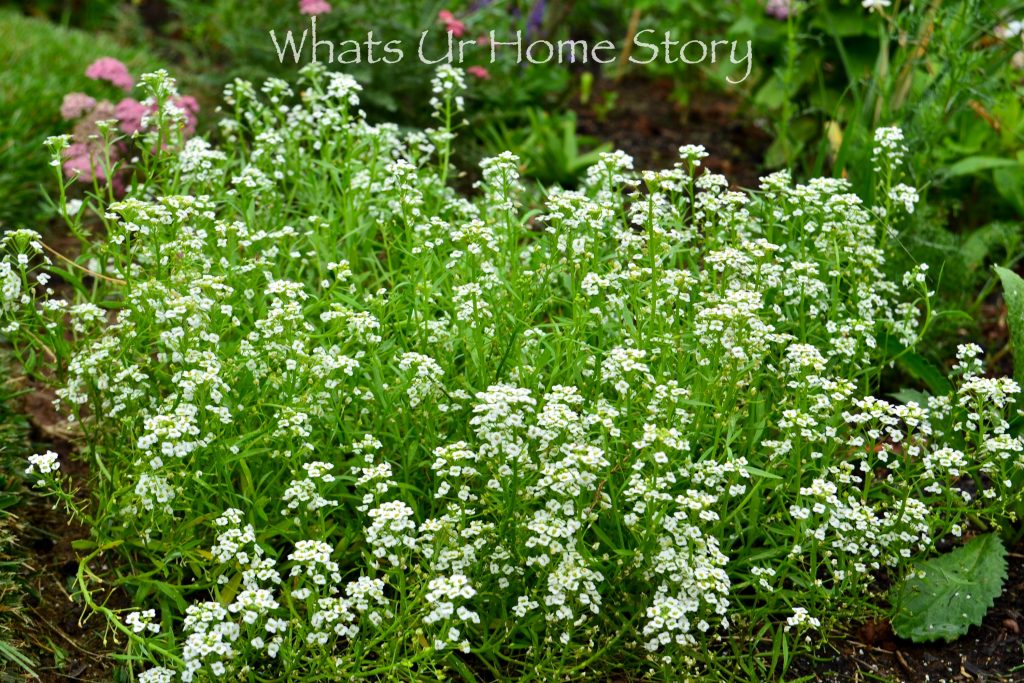 Can't leave you all without featuring one more shot of this gorgeous cottage garden favorite.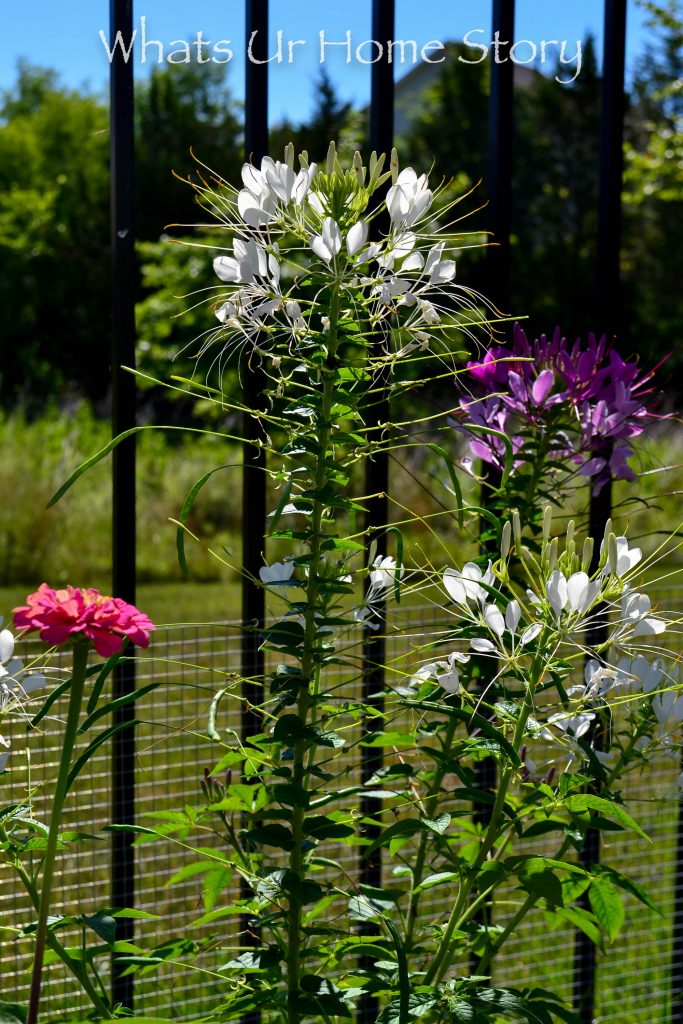 Sorry to have kept you waiting for this long for the tour.