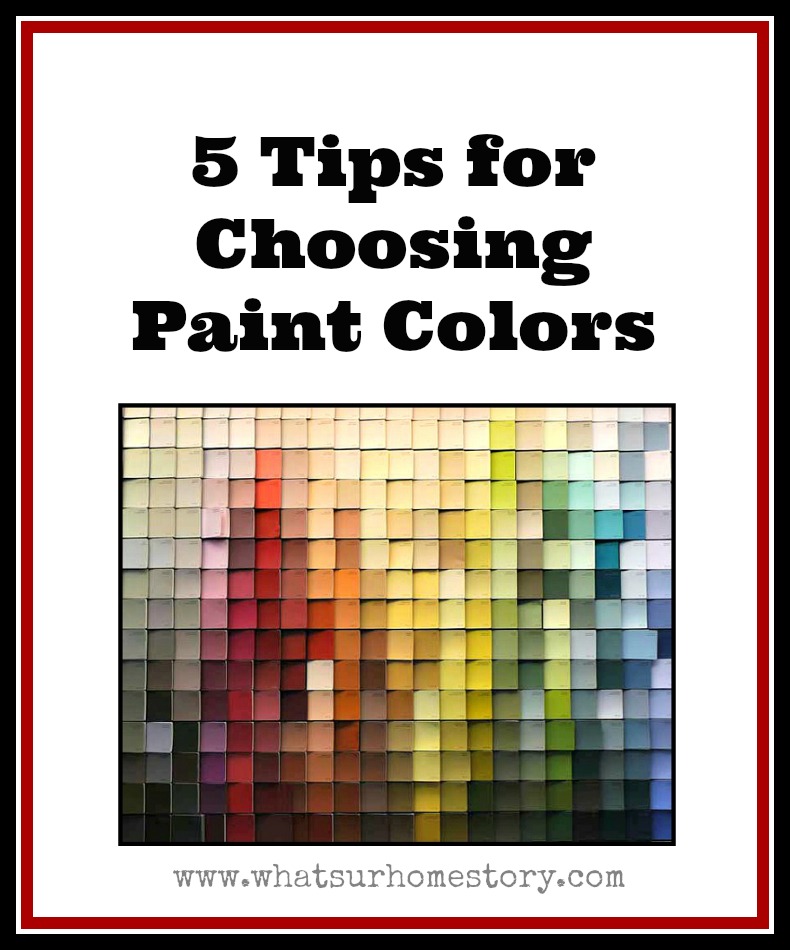 Lately I've had a lot of questions from both friends and readers about choosing paint colors. Looks like a lot of you are moving to a new home or are getting ready to add some color to your existing ones. Either way the process can be quiet daunting especially if you are looking to paint more than a room or two.  So here's a list of guidelines that will hopefully make your life a lot easier.
Know Your Color Palette
Are you drawn to warm colors or cool ones? Are you a big neutral fan or do you love color on your walls? The easiest way to identify your likes is to take a look at all your inspiration files. If you have pinned pics of rooms that you like on Pinterest (always a good practice even if you do not plan on painting rooms in the near future) or if you have been saving magazines or links to rooms that appeal to you, look through them to see if there is any color that calls your name or even a wall + accessory color combination. 
# of Colors
Relevant for those of you who are planning to paint more than one room. If you want a different color in each room then well go ahead, it is your home and you should do paint it the way you like it. But with today's open floor plans different color rooms can be difficult on the eye, especially if they are all bright colors. In our open floor main level an orange living room, a red dining room, a green kitchen, and a purple family room would look………….well interesting to put it in a light way. If you are unsure of how to transition between colors in different rooms in a open floor plan then the safest bet is  to follow the paint strip. Pick the paint strip you like and go from one end to the other based on your comfort level. For example this is the Sherwin Williams paint strip that I used for the main areas of our home.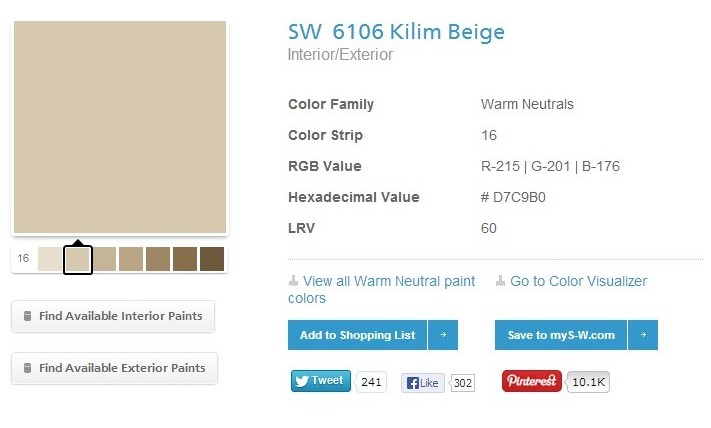 Keep in Mind the Other Pieces
When picking paint for your rooms pay attention to the pieces that you currently own and love. Let's say you have a piece of heirloom furniture or a sideboard that has been passed down from your great grand mother. Or you love your big leather sectional so much that you don't plan on changing it any time soon.  A dark brown leather couch or dark wood stain furniture with a chocolate brown wall color will make the room feel dark and dingy like a cave. A light wall color in this case will provide the necessary contrast while making the room feel light and airy. Googling the paint color or similar furniture pieces will give you images of the same in other people's homes. They give you a rough idea of how the color might look in your home.
Paint Sample
Can't recommend the power of the paint sample enough. Frankly I was never a paint sample girl. I always thought of myself as a 'not too picky/fussy' person when it comes to paint. Still do as I can live with a 'not perfect' paint color. So I would usually skip the paint sample step entirely and pick my paint colors based on just the paint swatch. Not a good idea at all especially if it is a window less room. Case in point the SW Hopsack in my powder room. I'm now thinking of ways to alter the color without actually repainting the entire room.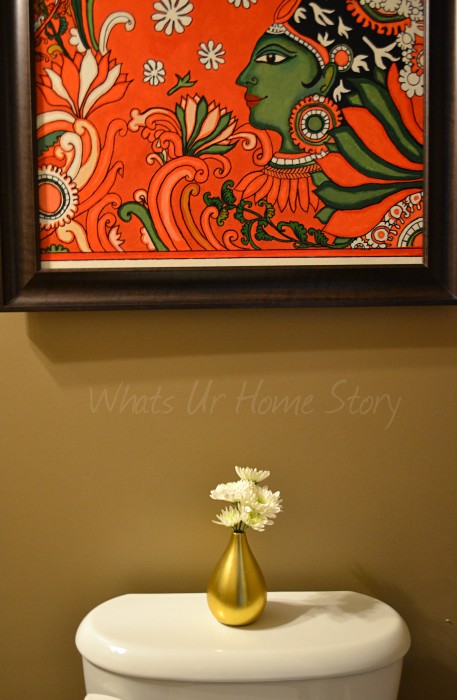 What? Still not convinced?
For a lot of colors (yellow in every hue) the paint on the wall is brighter than on the paint strip. 

Paint on the wall looks different at different times of the day based on the lighting in the room. Live with your painted sample swatch on the wall for a day or 2 and make sure that you like the way it looks at various times of the day/night.
Unless you are willing to live with a 'not perfect' paint color the $3 for the paint sample is better than repainting the room. Everyone says the easiest way to change the look of a room is paint. I totally agree but painting to me is both time and effort consuming and I do not want to repaint a room for another 2-3 years once I'm done with it whether I like the color or not.
The first time I used the paint sample was for our office room and I'm really glad that I did.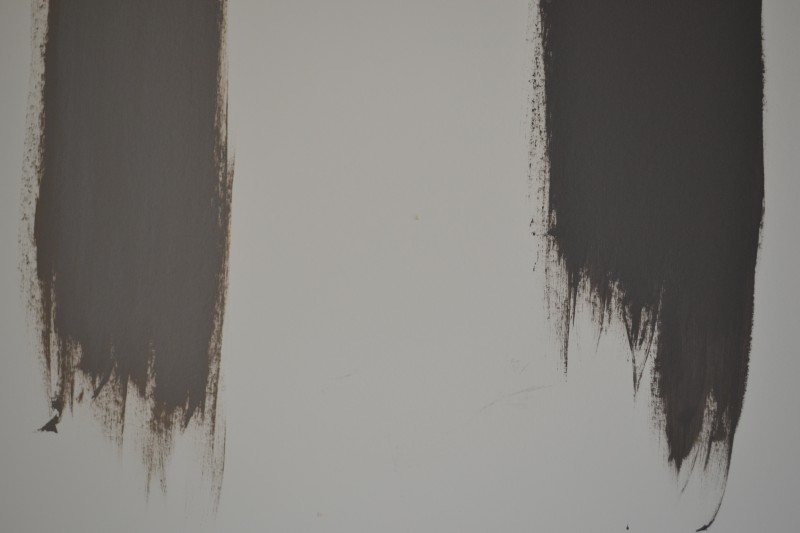 Types of Finishes
Lastly, the paint finishes. In the order of their smooth look /feel and ease to clean they are; flat, eggshell, satin, semi gloss, and gloss. I prefer flat for every room. Just a habit that stuck from my experience in our first home. The flat finish hides any uneven dry wall issues of which we had a ton in our old home. You could go with an eggshell if you prefer, which is a bit more smoother to touch and easier to clean than the flat. For bathrooms, you could either use eggshell or satin. Semi gloss is best left to the trim, doors, and windows. No, even if the sales person at Home Depot convinces you that the semi gloss is a charm to clean do not I repeat do not use it on the walls. The darn finish reflects light like crazy and magnifies every dry wall flaw. Yeah….yeah… go ahead picture my living room and dining room in all its semi gloss glory in a dark beige paint color that has a pink undertone! 🙂 Yes, my "what was I thinking" decorating moment came back in 2005! But like I said I am a 'not too picky' paint person, I lived with it for 5 yrs! Ain't that some tolerance level?
And now I'm giving you lectures on how to pick paint! 🙂 All I can say is, we all learn from our mistakes, don't we? Do you have any painting faux pas stories or even better "what was I thinking" decorating moments?
Pop Quiz – Extra brownie points for those of you who can answer how many times I used the word "different" in this post without going back and counting. 😉