Today, I had planned on posting about how we created the wall gallery in our home office but it looks like I might have some explanation to do before that, on the choice of things on the in gallery. I have been getting quite a few questions on one thing in particular. 😉 So let's start off with a full on shot of the wall.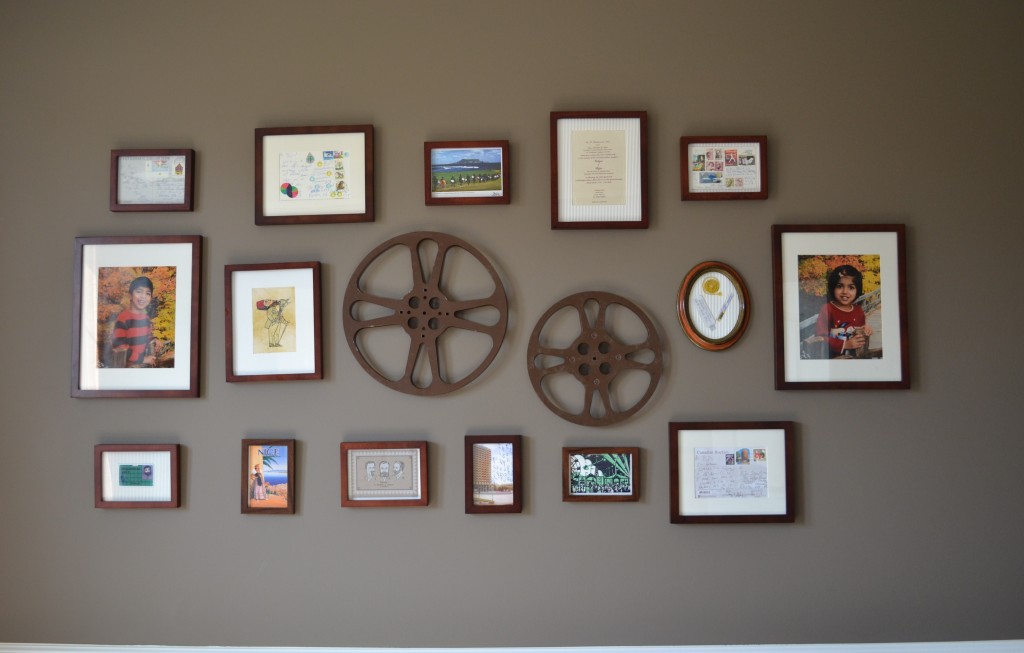 As I had mentioned earlier the whole idea of the wall gallery came to me from the post cards that B's friend and coworker Clay Hensley sent him from his world travels.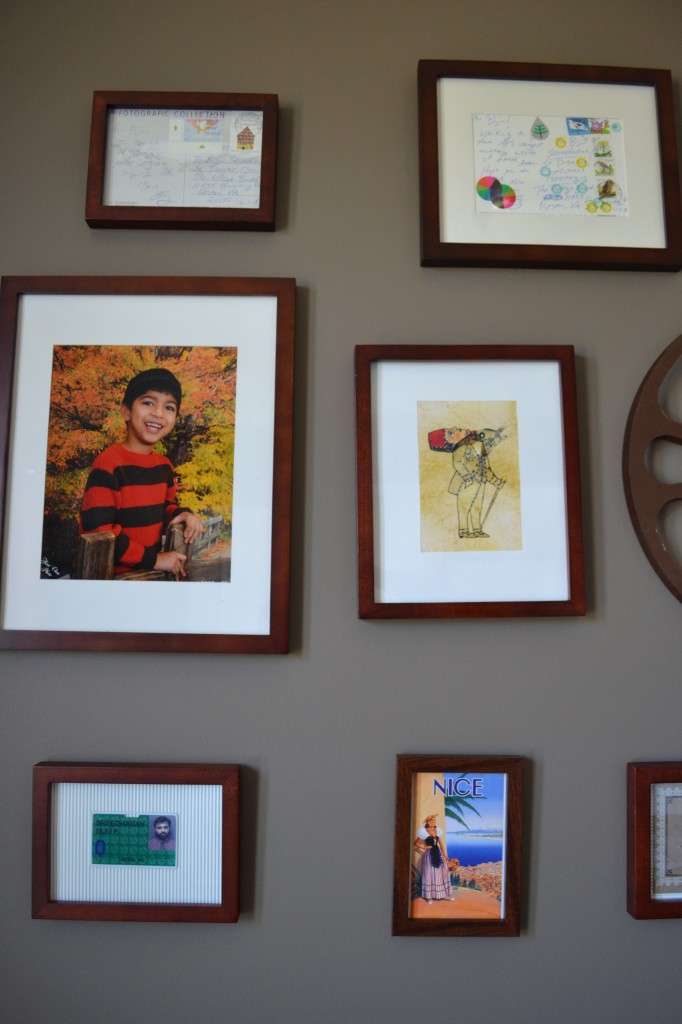 On the leftmost top corner is a card that Clay sent from Frankfurt, Germany. Below that is of course a school portrait of my son from his pre-school days. Actually this was the first school portrait that we had ever taken of the kids. We were almost certain that we had lost those (couldn't find them for the last 4+ yrs) until I accidently discovered them in a pile of documents in the basement last month. So these have an extra special meaning to us.
On the bottom we have B's World Trade Center I ID card.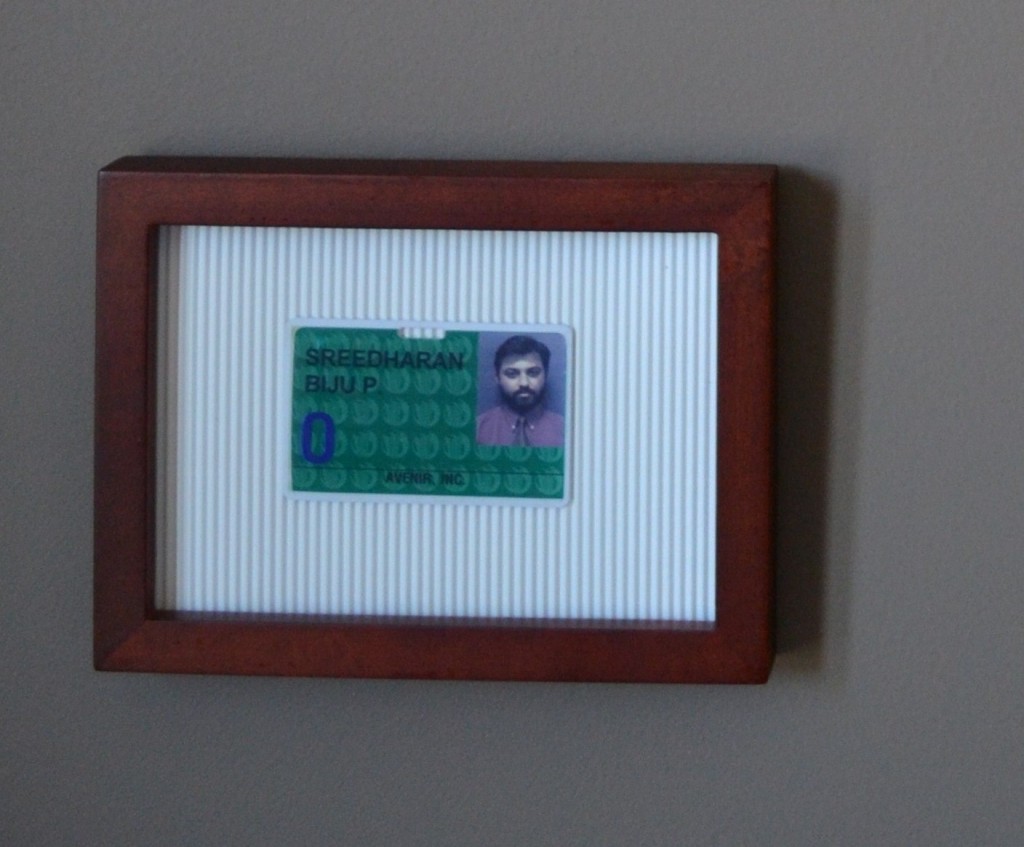 That was the building that he worked in when he first landed in the US in 1999. He used to work out of either their WTC office on the 78th floor or their NJ office. As luck would have it he was scheduled to work out of the NJ office on Sept 11 2001. To this day it is kind of scary for me to think that on the previous weekend, the Saturday he was in the WTC office the whole day. Miraculously all of his coworkers escaped the tragedy. The folks who would usually come to work early got late for the silliest of reasons that day and the folks who had gotten there early had gone down to the cafeteria on the 4th floor and could escape before the tower collapsed. That special piece of history will always be treasured in our home and we will always be grateful to God for guarding us during that tough time.
Moving on, more post cards from Clay from Korea, Istanbul, and Nice.
Onto the big elephant in the room. 🙂 What are movie reels doing in a home office? Shouldn't they be in a media room?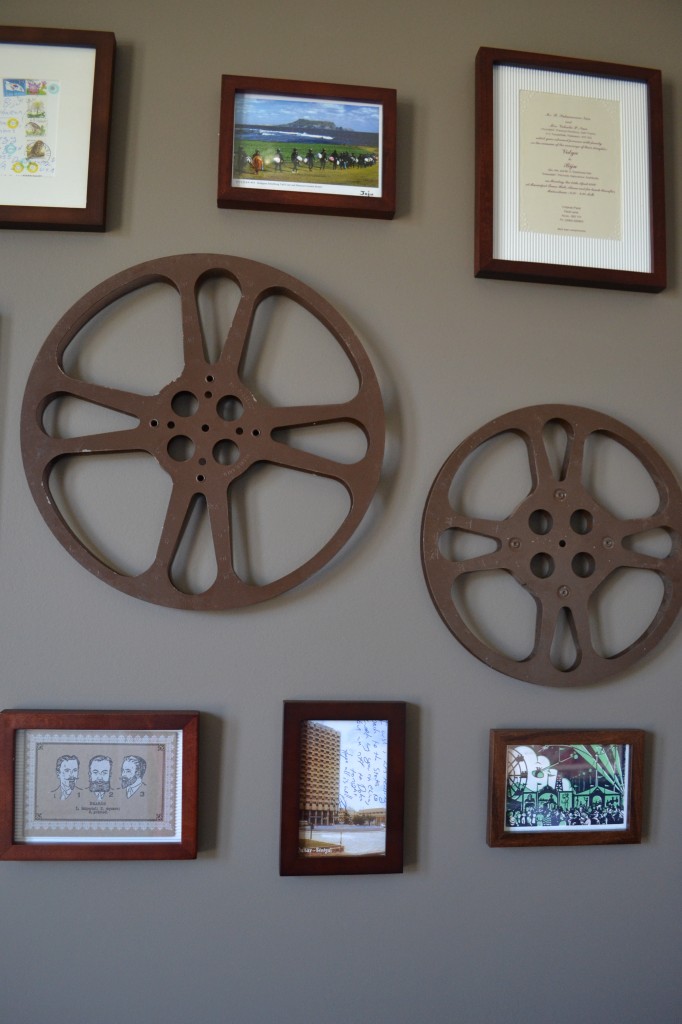 Totally agree…..in most cases. Our story is a lil diff here. B's dream job is to be a script writer in Malayalam (our mother tongue) movies. He is very passionate about it and has been walking around with a completed script for the past 8 years. Sadly his dream took a back seat when life's realities came knocking; my grad school, the kids, both his and my job changes, our move, a travel intensive job, and now his grad school. However after all these years he has recently been trying to pick up where he left of on his dream. More than anyone else I want to see his dream come true. From the moment I set eyes on those reels at the Old Lucketts Store Spring Market, I wanted to get them for him. As this was going to be his room, I want these to be his inspiration to surge on.
On top of the big reel is yet another post card from Korea (can't make out the city). Below it is the most interesting card in the collection, the "3 types of beards" card from Kansas City. Next to that is a card from Dakar, Senegal. Below the small reel is a card from Nashville.
Next, another sentimental one, our wedding card.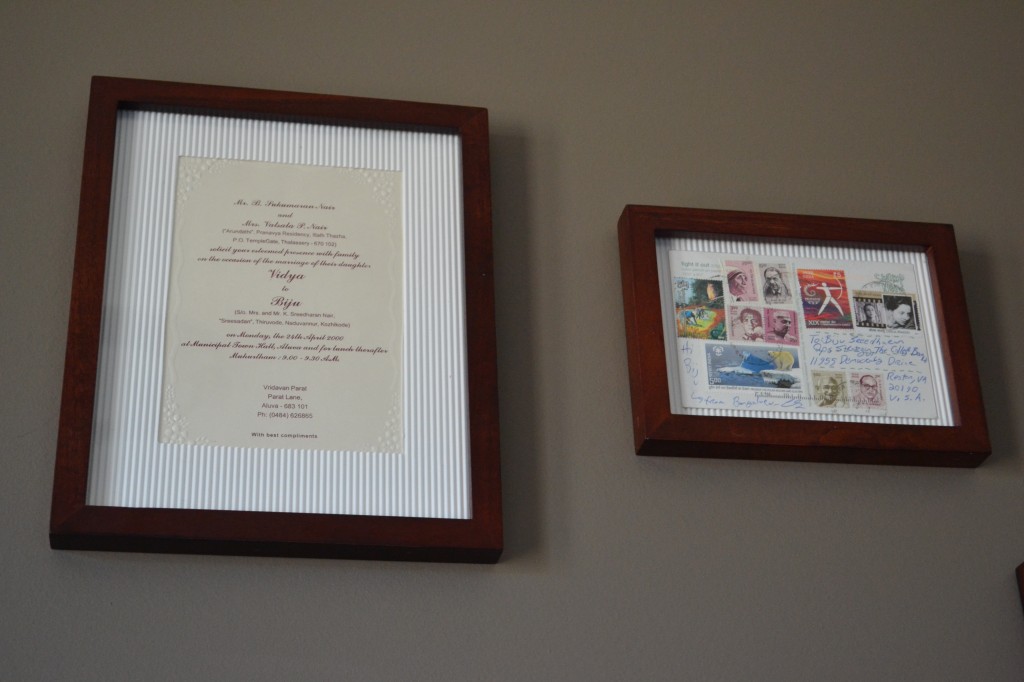 I had completely forgotten that I had the card with me (found this along with the kids' portraits). We got married in India on April 24, 2000. In a month we had left for the US for good with just 4 suitcases. As a completely clueless 22 year old who had an arranged marriage and was moving to a strange country, I am surprised that I managed to pack this along. 🙂 Aptly, next to it is a post card from Bangalore, India. I have to say a special thanks to Clay for managing to include stamps of every famous Indian in that one.
In the right most section we have another gem in the oval frame.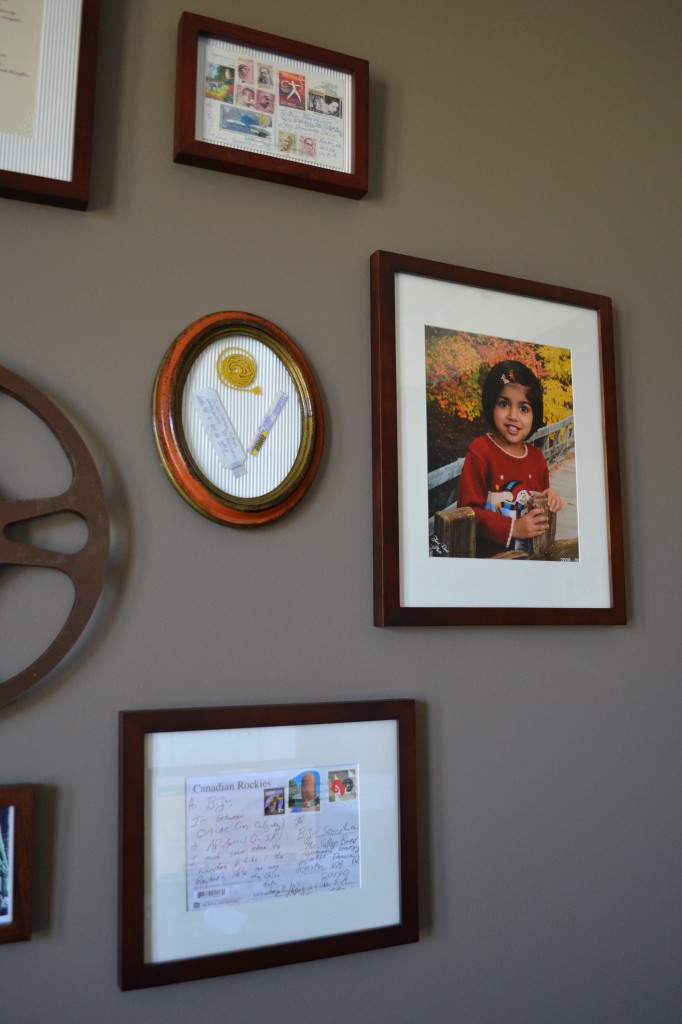 This one again is too close to the heart so I thought I'll use a different frame, the one I got while antiquing in Purcelville, at our friend Rebecca's store It's Bazaar on 21st Street. The rolled up yellow thread is what we call a 'thali charadu' or the thali/mangalsutra thread. In our culture the thali is a gold pendant that has the same or even more significance as the wedding band in Western cultures. On the day before the wedding, the thali pendant is strung on a thread dipped in turmeric (hence the yellow color) and is blessed by the temple priest. On the wedding day the groom knots the yellow thread with the pendant around the bride's neck. Here is a how it looks like (pic from a friend's FB photos);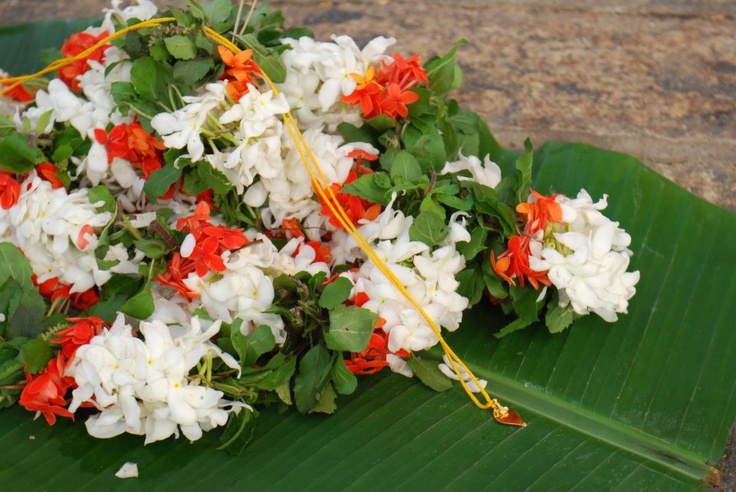 A few days after the wedding the bride takes the thali off the thread and moves it to a simple gold necklace. Usually people throw away the thread. For some reason, I never felt the need to throw it away instead I saved it. In the same frame, are the kids' hospital bracelets. Since these three keepsakes signify the start of our family at each step I wanted to frame them together. OMG, all this sentimental talk……I'm almost in tears now.
Rounding off the wall gallery is a portrait of my princess that was part of the earlier portrait story. Below it is another post card from the Canadian Rockies………..Wow that is a long one.
Have you framed any emotional keepsakes in your home? Do you remember the story behind them every time you look at them? Call me crazy, I do.
Read about how to create the gallery wall here.