Continuing from our last post (which was getting out of hand in terms of word count) let's take a look at the other decor accessories that you would find in a traditional Malayali home. The 'Uruli' is a shallow circular cooking vessel made of bell metal that was used …..actually is still used in many homes. It ranges in size from very large (called varpu) used to cook food for a functions and parties to small decorative ones.  The uruli is also used for Vishu (our new year) to prepare the Kani, an auspicious display of goodies that you see as soon as you wake up. Since the new generation has skipped elaborate cooking methods altogether, nowadays the uruli is usually found in living rooms filled with water and floating flowers. I tend to decorate my medium sized uruli the same way when we have company.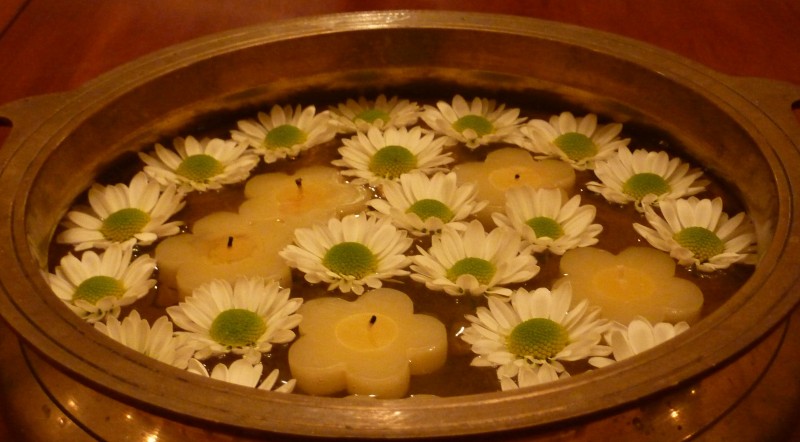 This way of dressing up the uruli has gained so much popularity that you can see it everywhere now especially in high end resorts and hotels. Here is one at the Coorg resort, from my friend Sreejith's visit.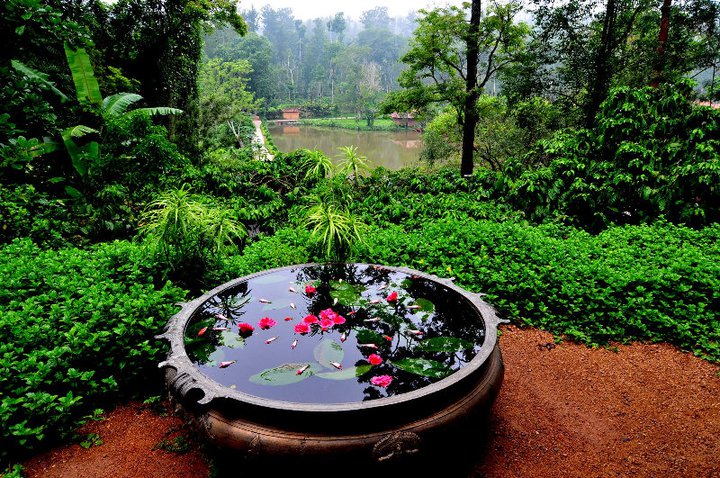 It has even found its way to the Taj resort in Maldives (again pic courtesy Sreejith)!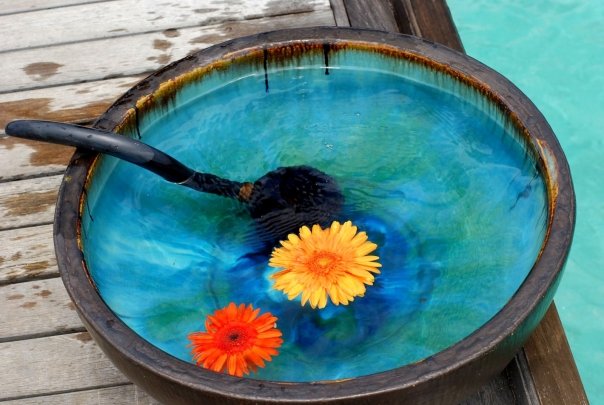 I have another small uruli that I've filled with 'manjadikuru' or jumbie beads or lucky red seeds (botanical name Adenanthera pavonina).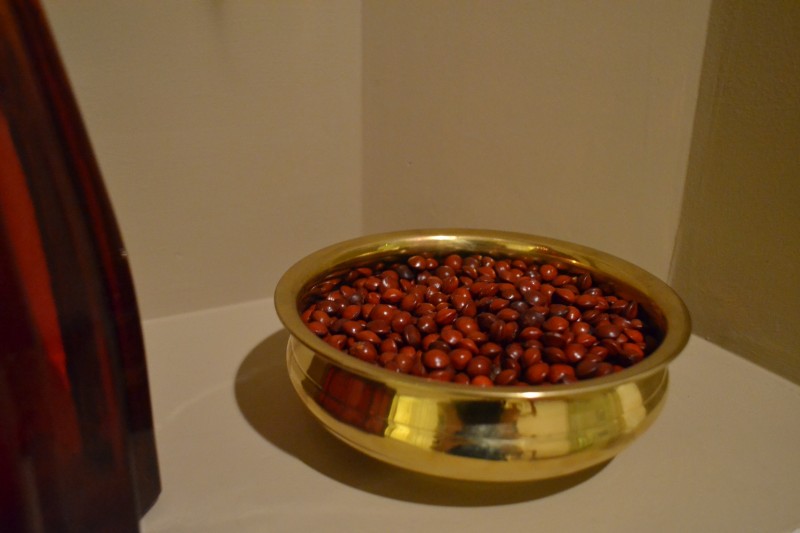 These seeds are prolific back home and have a special meaning to me as we used to have the tree in my grandparents' place.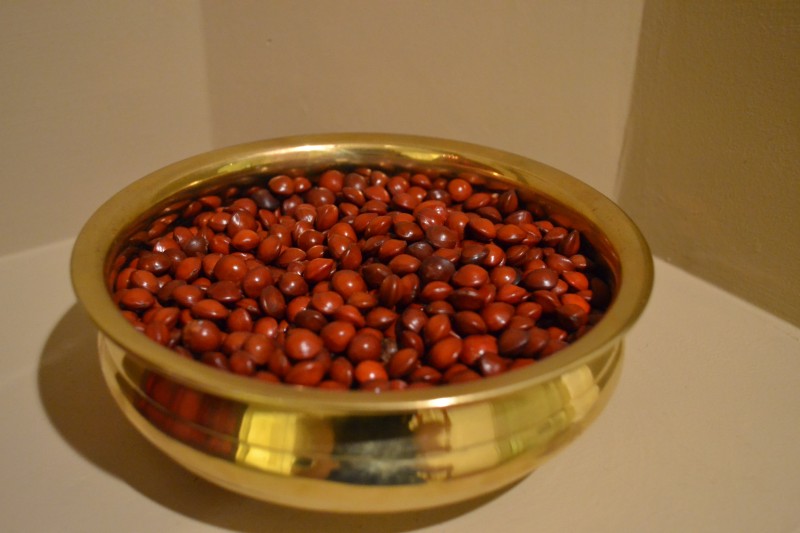 Every time I look at my uruli filled with these red seeds I am reminded of all the sweet times I've spent there with my cousins.
Another traditional piece, the ashtamagalyam consists of eight auspicious things believed to bring prosperity.  It is usually used in weddings, house warming ceremonies, and sometimes in the Vishu kani. It consists of the para, changala vatta, vilakku, kindi a container with a long sprout to hold water, val kannaadi a traditional mirror, kunguma cheppu a container to hold saffron or kumkum, grandham a book or palm scripts, vastram a colth with a gold border, dasa pushpam a collection of 10 flowers, and kan mashi or traditional eye liner.
Here is a shot of the uruli with the flowers, grandham, val kannadi,  kan mashi, and kunguma cheppu as part of the ashtamangalyam from my cousin's wedding.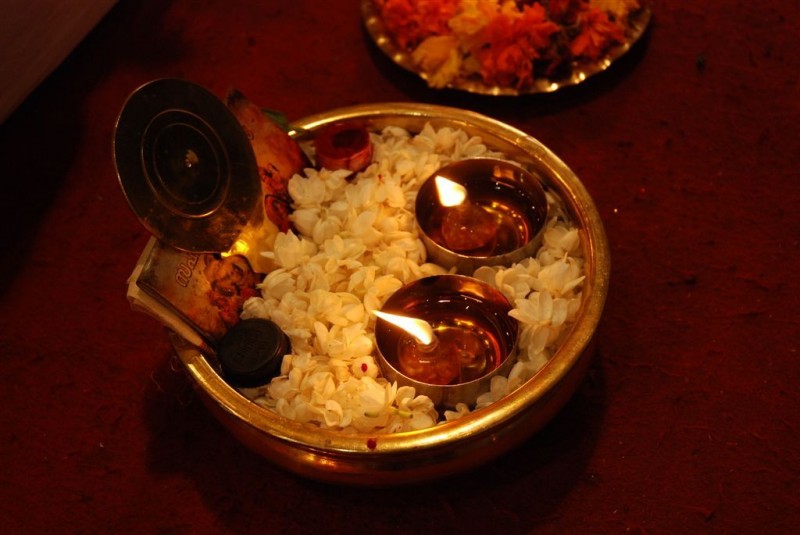 A miniature version of the same thing in my place;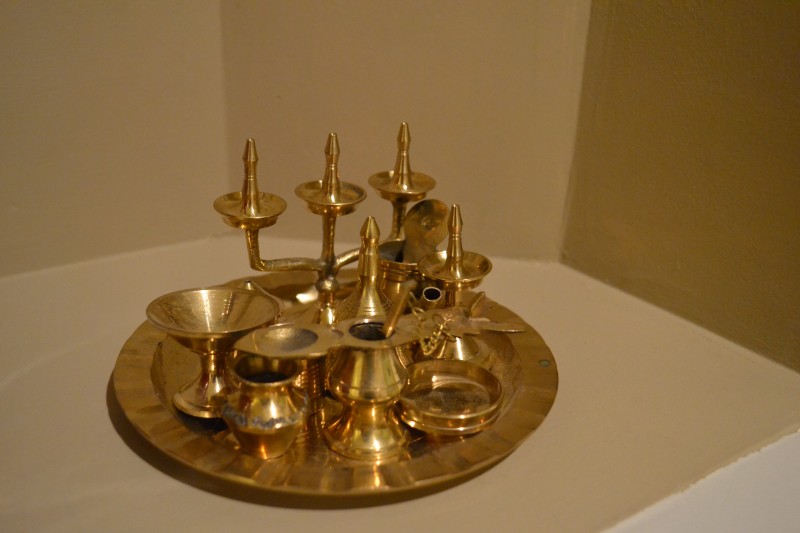 In a perfect blend of cultures the ashta mangalyam and the uruli with the lucky red seeds flank my lucky bamboo in my foyer nook. By the way, we haven't painted the foyer, hence the white walls.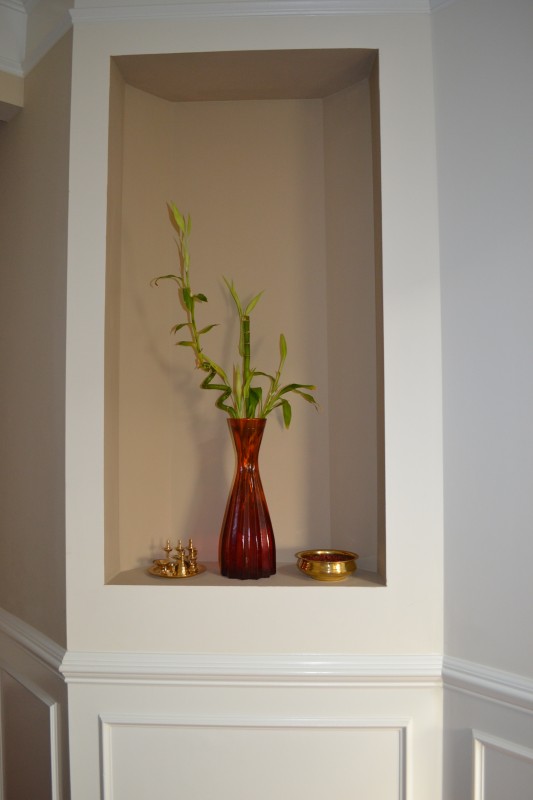 Now, for the best part….I found the uruli at our local TJMAXX the other day! The same size as the miniature version I have at home for $12.99.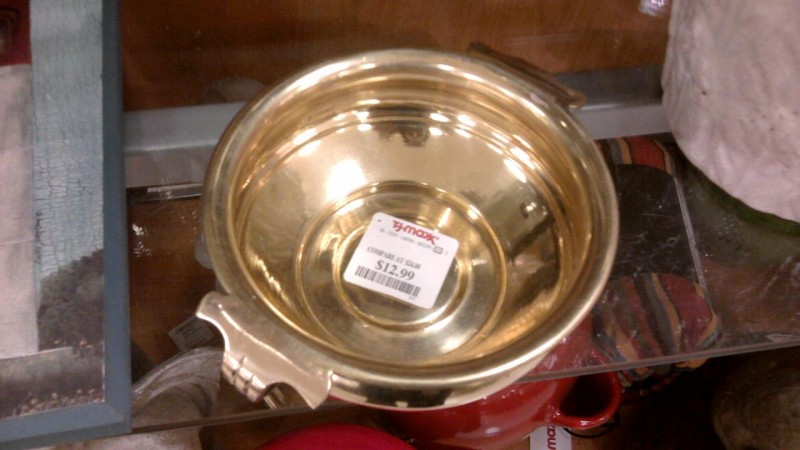 So go ahead and grab one for yourself!