Yay! 1000 Facebook Likes! We are finally there! If you've been following the blog on Facebook, you might've seen an update or two about the giveaways we've planned to celebrate this blog milestone.
Kick starting the giveaway fest, we have India's premier online home decor store, BuynBrag. A new age store that features a  massive collection of one of a kind decor for your home, they source their finds from craftsmen  all over India who design furniture and home accessories for brands like Crate & Barrel, Ikea, and Anthropologie. Their website too is different as they let you buy a product and then "brag" about it (a way to share your find with friends on Facebook). An added feature lets you create a poll amongst friends to get their opinion before a purchase – a handy tool, especially when you're shopping for gifts.
If you haven't checked out the site yet then please do. I was amazed at the endless list of products they feature. There are many things that fit my style perfectly. I even found a table that is almost the same as the one we have in our my family room. Actually, when they asked me to be a guest curator for them I had such a hard time choosing items to showcase from their collection 'coz I just loved so many of them! The gig is still in the works, will let you know as soon as it goes live.
Coming back to the giveaway, BuynBrag will give one lucky reader who has a shipping address in India the "Theatre Style Table Lamp" shown below.  Per the site, the lamp is inspired by the golden age of cinema, when studio lights were designed to create a quality of light that simultaneously softened and highlighted actor's expressions. Made of solid cast aluminium and sheesham wood with a frosted glass diffuser it sure is gonna be a conversation piece in your home.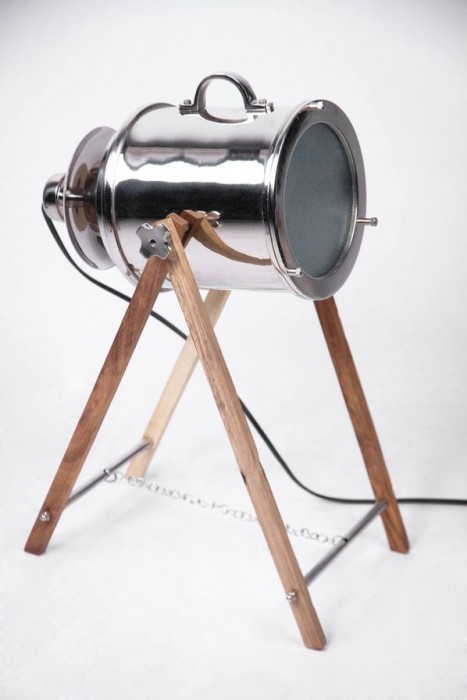 For the readers in the US, please don't be disappointed. There is more in stock for you in the coming days. I really owe a giveaway to the my readers in India (a sizable chunk) who have been ardently supporting the blog all along.
PRIZE: The Theatre Style Table Lamp from BuynBrag
WHO CAN ENTER: Open to anyone with a shipping address in India as they offer free shipping only within India
GIVEAWAY OPEN TILL: 5/29/13, 12 am EST. Winner will be announced in the 5/29/13 post.
HOW TO ENTER: 6 ways (1 Mandatory entry & 5 optional entries)
Mandatory – Comment on this post telling me where you would use the lamp and click ok on that option in Rafflecopter widget ( I pick the winner through Rafflecopter so you have to make sure that it is logged on the widget too). 1 comment per email ID.
Optional –  Read through your other options in the Rafflecopter widget and enter. Each entry is counted as a bonus entry and will increase your chance of winning.
a Rafflecopter giveaway

Once again, couldn't have done it without you all. Frankly there are days when I'm thinking, "What did I get into?" but right then and there I get an encouraging comment or an email from you, which perks me up instantly and makes this blogging whole thing worthwhile. THANK U!
PS: If you would like embed this giveaway on your blog, please use the following link;
http://www.rafflecopter.com/rafl/share-code/MDRmNDU4MjMzMjJiZTI4MTc3NzE3MGZkY2Y3YmRiOjc=/